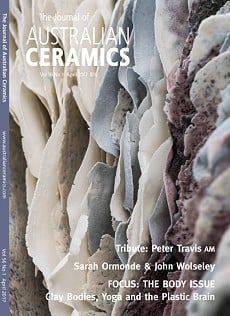 The Journal of Australian Ceramics Vol 56 No 1, April 2017
Print copy is SOLD OUT! You can still buy DIGITAL JAC here.
FOCUS: THE BODY ISSUE
Editor (content): Claire Atkins
Featured artists: Stephen Bird, Sarah Ormonde and John Wolseley, Barbara Campbell-Allen, Charlie & Blair and many more!
Featured topics: For millennia, the making of art has been intimately linked with our bodies and desires. Published 6 April 2017
In April's BODY issue we climb through twenty tonnes of the slippery stuff with Alexandra Engelfriet, we go in search for wild-clay bodies, and are fascinated by clay's potential to reshape our brains through serious play, and that's just for starters!
Jam-packed with inspiring stories, the latest reviews and top technical tips, our April issue has something for everybody! 


The Journal of Australian Ceramics (JAC), Australia's most widely read tri-annual contemporary ceramics magazine, is a valuable resource for professional and amateur ceramicists, students, galleries, arts administrators, curators, buyers and passionate collectors.
Published three times per year, it contains artist profiles, commentary and critical essays, exhibition and book reviews, information on tertiary ceramic education, workshop reports, technical advice, suppliers, new products, exhibition and gallery listings.
This full colour, quality journal is also available as a digital issue.
---
STATUS:
Stock available
Requires shipping
Weight: 450gm