PROVOCATIVE, UNCANNY, DISTURBING AND LUDICROUS: THE WORK OF SUZANNE ARCHER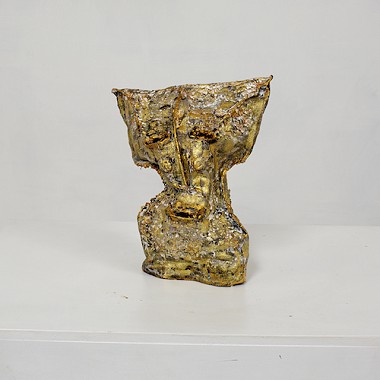 Review by Jessica Holburn: Suzanne Archer's latest exhibition, "Anthology of Absurdity"
5–29 June 2013 @ Janet Clayton Gallery
"In the sphere of thought, absurdity and perversity remain the masters of the world, and their dominion is suspended only for brief periods."
Arthur Schopenhauer
"In a world where everything is ridiculous, nothing can be ridiculed. You cannot unmask a mask."
G.K. Chesterton
Provocative, uncanny, disturbing and ludicrous. The works of Suzanne Archer transform everyday objects into bizarre personifications, disrupting what Heidegger once described as "the thingness of the thing." From the appropriation of an op-shop back-pack into a totemic object, to a cloth adorned with kooky eyes and mouth, to post-ritualistic depictions of her own head suspended in the air, this is an artist unafraid to plumb the depths of the human condition: abjection, artifice, subjugation, hegemony, obsession, death, disguise, deception, constructs of femininity, anti-narcissism, our sense of self-hood, self-discovery. Working in mixed media sculpture, painting, works on paper and collagraphs, Archer sets about the deconstruction of femininity through exaggeration and self-mockery.
Essayist Prue Gibson writes of Archer's work: "To peel back the layers of artifice has always been her default position. Ugliness doesn't bother her, rather it is her focus of inquiry. With this recent series of portraits, she works with curiosity, wonder and bravery."

Above: Suzanne Archer, Termagant, clay, antique lace, acrylic paint
Archer's hooded and masked forms conjure fear of the unknown 'Other', of shame, of torture, tyranny, persecution - and of being overpowered. Yet these forms are also empty voids, ghosts and absurd anomalies. They are shells of historical and cultural artefacts; skin that has been shed.
As essayist Lily Hibberd comments, Archer's act of covering herself is also a search for what lies beneath and within: "This performance of a personage forms yet another, constituting an encounter with something previously unavailable about herself rather than making an illustration of an existing or previously recognised persona."
Following the success of Archer's show earlier this year, Conversations with the Devil Women at Campbelltown Arts Centre, this Dobell Prize and Fisher's Ghost prizewinning artist arouses the interest of those in search of a more challenging breed of art making.
Archer's show will play with your emotions and will received mixed responses, at first you don't know what to think of her obscure work until you start engaging with it on another level, that's the moment when you start to laugh or feel unsettled and horrified - or you feel something somewhere in between.

5–29 June 2013
Janet Clayton Gallery
2 Danks Street Waterloo NSW 2017
T: 02 9698 8443
E: info@janetclaytongallery.com.au
Tues to Sat, 11am to 6pm