OPPOSITE POLES – NANNA BAYER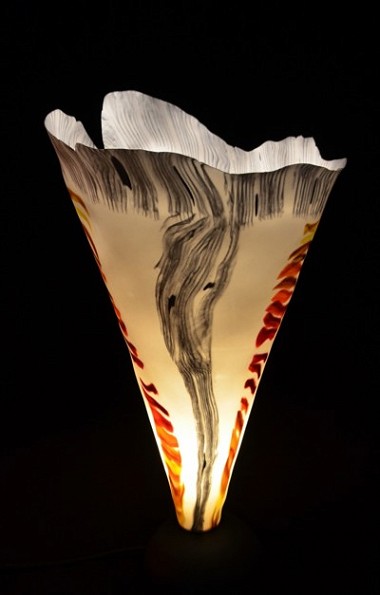 A PROFILE BY ZSOLT FALUDI
Nanna Bayer was already a well-known ceramic practitioner in Finland when, after attending conference in the NSW town of Gulgong, she decided to make her Australian experience a permanent one. It seemed a natural move for one who is a passionate traveler, in constant search of challenge. She arrived for good in 2012, and her shipping container – filled with studio equipment – followed two years later.

Above: Nanna Bayer, Misty Morning, Southern Ice porcelain, nerikomi, h.42cm, d.49cm; photo: Zsolt Faludi
Nanna began her artistic journey not in ceramics, but in the very different medium of fur when she studied design in Frankfurt in the 1980s. When she moved back to Finland some years later she opted to enrol in a ceramic course at Lapland's Posion Keramiikkakoulu design school. Upon graduation, she honoured a deep passion for working with clay, settling and establishing a studio in Finland's famous 'design village' at Fiskars. It was here she developed a strikingly singular approach and found her own ceramic 'voice'. The synergy of close engagement with other artists allowed her to accelerate her technical development, resulting in successful exhibitions of work around Europe and as far afield as Japan, Mexico, Iceland and South Korea.



Above: Nanna Bayer, Ocean Flower, Cool Ice porcelain, nerikomi, h.19cm, d.14cm; photo: Zsolt Faludi
An important element in Nanna's practice is a response to the paradoxical relationship between cultural and natural environments. Scandinavian design casts a long shadow, not only in terms of its pervasive presence in Scandinavian culture, or even its global reach and success, but also the anxiety any practitioner must feel in the face of its specific aesthetic code. Part of Nanna's aesthetic strategy has been to find solutions contrary to Scandinavian design.



Above: Nanna Bayer, First Impression of Tasmania, latte cups, Cool Ice porcelain, nerikomi, h.21cm, d.9cm, each; photo: Zsolt Faludi



Above: Nanna Bayer, Stud Walls, Cool Ice porcelain, h.55cm, w.8cm, d.30cm; photo: Zsolt Faludi
The counterpoint upon which she bases her critique is supplied by natural phenomena, particularly the Northern world itself. It is an environment characterized by drastic seasonal alterations and a display of profound extremes. In a short matter of weeks the Finnish landscape can transform from a dark, silent, freezing void to a world teeming with bright exuberance: wild flowers and birds, streams and sunny meadowlands. Within this living cycle of impermanence, colour and temperature are subject to severe negotiations, disrupting fixed ideas about beauty in its natural shapes and formats.
The reconciliation of such polarities has been central to Nanna's formulation of a design vocabulary. She works towards sharp, well-considered forms made possible by working with extremely thin porcelain slabs and the use of the Nerikomi technique. While Nanna's work grabs our attention with its coloured patterns and vivid look, it stands for more than a passing aesthetic pleasantness at surface level. Concern about a Western attitude that is pushing the planet towards environmental devastation is integral. In Nanna's work is imbued the simple message that we can't own nature. It's a notion that can be grasped in a literal sense, given that Nanna's work exhibits an intended fragility: if one grabs a piece too tightly, it fractures and falls apart like the wing of a butterfly. The art – like the artist behind it – argues that the price we ultimately will pay for our violent domination of nature is going to be severe.
Nanna's move to Tasmania has opened a new chapter, especially given the island's unique mix of natural landscapes. Her marriage to Tasmanian ceramicist, Zsolt Faludi, and their joint ventures in ceramics will no doubt produce a range of exciting new collaborative projects into the future.