MICHAEL KEIGHERY: THE DEAD MAN'S PENNY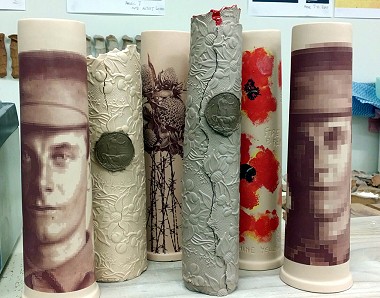 "The Dead Man's Penny" is a background documentary produced by Michael Keighery which explains some of the thinking about his 2015 installation and exhibition (at Canberra Potters' Society from 10 September to 5 October 2015). It commemorates the death of his great uncle Frank Keighery on Gallipoli in 1915. His family (and the families of other British soldiers who died) received a medallion which became ironically known as 'The Dead Man's Penny' and was inscribed with "He died for Freedom and Honour". The artwork will be an installation of 8,709 squeezed and fired 'knuckles' of clay – 8,709 being the number of Australian soldiers killed on Gallipoli in 1915 and the knuckles representing the historic and contemporary feelings of grief, frustration and anger.

Above: Michael Keighery, Dead Man's Penny Plate, (in progress), 2015, cast porcelain with decal

Above: Michael Keighery, 2014
The project centres on Frank's diary which was taken from his body on Gallipoli in 1915. The diary was written in Pittman shorthand (Frank was a reporter/printer from Lang Lang, Victoria) and Michael Keighery found a good number of volunteer translators to work on translating the small diary which is housed in the War Memorial. This was, probably naturally, a difficult task given the individuality of handwriting, military jargon and colloquialisms. One of the volunteers (who Keighery only knows via the internet) even visited Frank Keighery's grave at Lone Pine recently and left a postcard to Frank and a handmade wreath!

Above: Commercial souvenirs, brass artillery shell, 1917
Frank Keighery wrote poetry (in English) to pass the quiet times and other soldiers made 'trench art' from the military detritus such as artillery shell casings that were the by-product of the first industrialised war. These objects often became domestic, sentimental and indeed sanitized reminders of familial loss. Keighery extensively uses the stylised forms of artillery shells in order to explore this 'anomaly'.



Above: Michael Keighery, Frank Keighery, 1896–1915, 2015, cast porcelain with decal
For Keighery, the elusive nature of the meaning of the diary and The Dead Man's Penny serves also as a metaphor for how we continue to understand, as well as misunderstand, the Gallipoli Campaign and 'The Great War'.
The video can be viewed at HERE.
Lest We Forget.