BELONGING: EMBODIED COMMENTARIES INSPIRED BY PLACE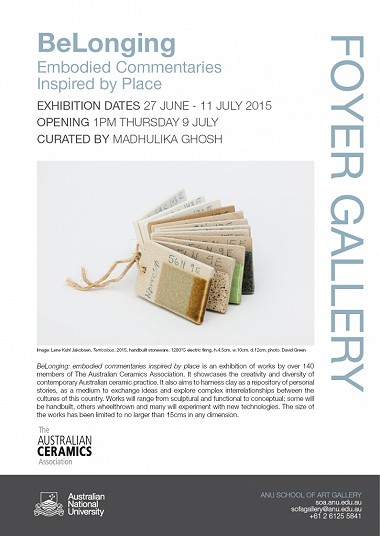 BeLonging: embodied commentaries inspired by place is an exhibition of works by over 140 members of The Australian Ceramics Association (see below for a list of artists). It showcases the creativity and diversity of contemporary Australian ceramic practice. It also aims to harness clay as a repository of personal stories, as a medium to exchange ideas and explore complex interrelationships between the cultures of this country. Works will range from sculptural and functional to conceptual; some will be handbuilt, others wheelthrown and many will experiment with new technologies. The size of the works has been limited to no larger than 15cms in any dimension.
Curated by Madhulika Ghosh
Sat 27 June – Sat 11 July 2015
Official opening: Thursday 9 July @ 1pm
ANU School of Art Foyer Gallery
2 Childers Street, Acton ACT 2601
T: 02 6125 5810
soa.anu.edu.au/school-of-art-gallery
Tues to Fri, 10.30am – 5pm; Sat, 12–5pm
Participating Artists: Ellen APPLEBY, Lorna ASHFIELD-MITCHELL, Walter AUER, Peter AUSTIN, Cristina BARATINSKAS GOODMAN, Julie BARTHOLOMEW, Nanna BAYER, Leanne BERELOWITZ, Belen BERGANZA, Sandra BLACK, Sophy BLAKE, Pie BOLTON, Gemma BONSHEK KANE, Mollie BOSWORTH, Sandra BOWKETT, Carolyne BRENNAN, Amanda BROMFIELD, Margaret BROWN, Lisa BRUMMEL, Mary BULLOCH, Nadja BURKE, Douglas CHAM, Roy CHANDRA, Kris COAD, Sarit COHEN, Zara COLLINS, Rachel CRAMER, Jann CRAW, Greg DALY, Margaret DAVEY, Yvette DE LACY, Janet DEBOOS, Johanna DEMAINE, John DERMER, Sharyn DINGELDEI, Kate DORROUGH, Helen EARL, Lise EDWARDS, Glenn ENGLAND, Zsolt FALUDI, Ann FERGUSON, Janet FIELDHOUSE, Sue FISHER, Cathy FRANZI, Lynda FRASER, Sue FRASER, Neville FRENCH, Shannon GARSON, Beth GIBBINGS, Libby GILKES, Robyn GILL, Philippa GORDON, Carmen GROSTAL, Szilvia GYORGY, Amanda HALE, Stephanie HAMMILL, Su HANNA, Rowena HANNAN, Ellen HANSA-STANYER, Aedan HARRIS, Steve HARRISON, Bankstown KOORI ELDERS GROUP (Helen Fisher, Beverley Miranda, Lorna Morgan, Bev Gilmartin, Victoria Woods, Margaret Foat, Lillian Johnson, John Simmons, Lola Simmons, Vicki Markna, Gloria Peronchik and Kellyann Oriel), Patsy HELY Sue HEWAT, Susan HILL, Fiona HISCOCK, Serena HORTON, Niharika HUKKU, Anne-Marie JACKSON, Lene Kuhl JAKOBSEN, Claire JOHNSON, Varuni KANAGASUNDARAM, Alya KHAN, Leana KIM, Catherine LANE, Susannah LARRITT, Robert LINIGEN, Irine LUI, Lisa MADDERN, Katherine MAHONEY, Helen MARTIN, Sue MCCORMICK, Denise MCDONALD, Anita MCINTYRE, Kylie Rose MCLEAN, Petra MEINKING, Sharon MUIR, Annemieke MULDERS, Geraldine NASH, Gail NICHOLS, Henrietta NORRIS, Elnaz NOURIZADEH, Ann O'CONNOR, Sarah O'SULLIVAN, Sarah ORMONDE, Stephanie OUTRIDGE FIELD, Maggie PARADYSZ, Dianne PEACH, Julie PENNINGTON, Tamasin PEPPER, Jodie Maree PHELAN, Robyn PHELAN, Jessie PITTARD, Mary-Lou PITTARD, Christopher PLUMRIDGE, Ellin POOLEY, Bill POWELL, Marina PRIBAZ, RachaelRIGG, Pilar ROJAS, Janine SCHENKEL, Janet SELBY, Julie SHEPHERD, Leonard SMITH, John STEWART, Sue STEWART, Diane STIRLING, Gabi STURMAN, Kim TARPEY, Geoff THOMAS, Antonia THROSBY, Annette TRANTER, Ingrid TRISTRAM, Alison TUCKER, Jan TWYEROULD, Evelyne UPTON, Dawn VACHON, Natalie VELTHUYZEN, Andrea VINKOVIC, Kirsty WALKER, Kate WARD, Lesey WEBER, Diane Solomon WESTERHUIS, Lone WHITE, Dawn WHITEHAND, Kit-Fong WONG, Pam WRIGHT, Roswitha WULFF, M.A. ZAHRA-NEWMAN and Martha ZETTLER.