FAREWELL TO PETER RUSHFORTH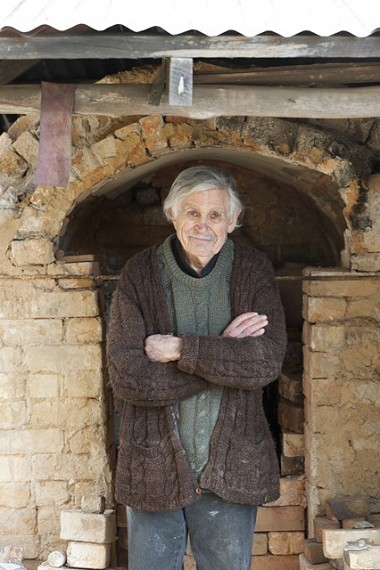 Peter Rushforth, c.1985; photo: Col Levy
Peter Rushforth, 4 December 1920 – 22 July 2015
Please note: A video (in 3 parts) of the Memorial Gathering on 16 August 2015 at Blackheath Community Centre, NSW, will also be available in the coming weeks on our VIMEO channel HERE.
Part 1 is now available: published 5 December 2015. Click HERE to view.
Speeches to acknowledge the passing of a friend and colleague
Some of these speeches* were given at both Peter's funeral and the memorial gathering.
28 JULY 2015: FUNERAL Leura Memorial Gardens and Crematorium
EULOGY:
*Janet Rushforth and friends; read by David Williams
TRIBUTES:
*Susan Rushforth
*Rebecca and Isabel Berrell
Bill Samuels
16 AUGUST 2015: MEMORIAL GATHERING
Blackheath Community Centre, Phillips Hall
Welcome and introductions to speakers: Chester Nealie
Eulogy: *Janet Rushforth and friends; read by Julian Leatherdale
Tributes by family:
*Susan Rushforth
*Rebecca and Isabel Berrell
Tributes by friends:
Simon Reece
Trevor Shearston
Paul Moloney
Steve Harrison
Colin Levy
John Dermer
Grace Cochrane
Natalie Wilson
Conclusion: Chester Nealie


Blackheath Community Centre, 16 August 2015; photo: Vicki Grima
---
Janet Rushforth
Read by David Williams, Leura 28 July 2015
(Also read by Julian Leatherdale, Blackheath, 16 August 2015)
This is a slightly edited version of the eulogy that was read [by David Williams] at Peter's funeral and prepared by his daughter Janet with help from her family and friends. The first person 'I' in this text refers, then, to Janet. She has asked me to read it on her family's behalf.
Much has been written about Peter over the years and most people present are familiar with his life story. Even so, it is worth recalling some of the major turning points.
Peter was born in Manly in 1920. His father left the family, following his return to Australia from World War I, when Peter was only seven, leaving a note and disappearing without a trace. Peter then lived with his mother, Phyllis, and his sister, Judy. He left school at the age of 12 due to serious illness when he almost died, and he never returned because of his poor health. His mother died when he was 14. He studied shorthand and typing and worked in various jobs until he enlisted for war in 1940 at the age of 19.
With the fall of Singapore he became a POW in Changi prison and later on the Burma-Thailand Railway. His clerical skills in effect saved his life when many of his fellow prisoners were picked to be sent to Sandakan camp in Borneo, but he was kept behind to help take notes for the medical staff.
On his return to Australia he trained in ceramics at Melbourne Technical College (later the Royal Melbourne Institute of Technology which in 2010 awarded Peter an honorary Doctorate of Fine Arts).
While teaching returned servicemen at Concord Hospital, Peter met and fell in love with Jean Roberts, known as 'Bobbie', whom he married at the age of 30. They had three daughters: Elizabeth, Susan and Janet. Elizabeth had a daughter Rebecca and she had three children, Isabelle, Byron and Ryder.
In 1951 Peter was appointed the first full-time ceramics teacher at East Sydney Technical College and over the next 27 years rose to the position of Senior Head Teacher before his retirement in 1978. Peter recruited a team of talented artist potters as teachers and invited distinguished potters from around the world as guest teachers. Under his leadership the ceramics course at East Sydney Tech became the most sought-after in Australia with more than 200 students applying each year for only 18 available places.
Peter became a greatly admired potter in his own right with numerous exhibitions and many awards to his credit. Among these was an AM, an Order of Australia. His last award was conferred only weeks ago while he was in hospital: an Honorary Fellow of the International Academy of Ceramics.
Retiring from teaching at the age of 58, Peter moved with Bobbie to Shipley where he set up his studio and continued his practice until his final firing in June 2013. A retrospective exhibition at S.H. Ervin Gallery that year featured 172 of Peter's works spanning 60 years of his creative career. His work is currently featured in an exhibition at the National Arts School and is permanently on display at the Manly Art Gallery & Museum and the National Art Gallery of Australia.
These facts of Peter's public life and achievement are well-known to most of you, but they don't tell the full story of the person he was. Today, I (Janet Rushforth) – on behalf of my mother and sisters and extended family – would like to share some of our memories and impressions of him as a man, a husband, and a father.
Who will ever really know what formed those qualities for which Peter was so loved? Was he simply born with the patience, compassion, determination and resilience that characterised him or were these shaped by the tragic experiences of his early life? The answer probably lies somewhere in between.
With a paternal grandfather who was a Canon of the Church of England and a staunch believer, Peter's upbringing was rooted in Christian values even though he never accepted the doctrine of the church. His intellectual and spiritual curiosity was life-long and led him down other paths. Over the years he became deeply interested in Eastern philosophy, particularly Zen Buddhism.
I can't remember him ever reading a novel but he was always reading something. Deprived of the chance to finish high school, Peter undertook his own education by frequently visiting the Mitchell Library as a teenager, reading works on art and philosophy in the Singapore Library while a POW in Changi, and even doing night classes to finish his leaving certificate while teaching at East Sydney Tech.
As anyone who visited Le Var knew, his library was extensive and diverse with a plethora of spiritual texts, particularly concerning Buddhist and Eastern philosophy as well as many books on the philosophy of beauty and art.
He also liked to collect quotes – about belief, about art, about social justice. In the last few days I have found many of these clippings in his study. Here is one: "What you make of the Earth should be beautiful and useful and be a joy to behold". This could easily be the underlying philosophy of all my father's work.
In his quiet and gentle way he had a great impact on so many people. He was loved not only by his family but also by many who got to know him as a teacher, neighbour, friend or colleague. He was a substitute father for some, a substitute grandfather for others. After his retirement he was often contacted by past students who said how helpful and encouraging he was and what a positive influence he'd had in their lives.
He had the ability to make people feel special and worthy and would endeavour not to hurt anyone's feelings. As a teacher he was known for seeking out the positives, commenting on the strengths of each student.
With rare exceptions he seemed to find the good in people no matter who they were. Even after his harsh experiences as a prisoner of the Japanese, he never took a position that condemned the Japanese as evil. Instead he saw Japanese soldiers as victims of their cultural circumstances. He rarely spoke about the war. One story he did relate was about the time when he was very sick as a POW and a Japanese soldier secretly helped Dad by giving him his own medicines.
When asked about his wartime experiences, he would say, no doubt to protect us, his family, "If you kept your head down, it wasn't that bad". It was only recently that we discovered that he had actually tried to escape twice during his time as a POW.
I found another clipping among his papers, this one by Martin Luther King: "We must develop and maintain the capacity to forgive. He who is devoid of the power to forgive is devoid of the power to love. There is some good in the worst of us and some evil in the best of us. When we discover this, we are less prone to hate our enemies."
By going to Japan and studying ceramics, Dad undertook an act of forgiveness as well as a search for beauty. Today, Peter's commemorative Peace Vessel takes pride of place on the contemplation deck at the Hellfire Pass Museum in Thailand.
When most people retire they stop work, but Dad's work was his passion. Once he had moved to Le Var he started building yet another studio, kilns and gallery.
In 1979 Peter Weir made a short film about Dad called Heart, Head and Hand. In the closing scene of the film, Dad made a prophetic statement that maybe his best work was yet to come. I think many would agree that he might have been right. His later work was beautifully captured on film by Chris Wilcox, in Playing with Clay.
Le Var became a centre for many happy gatherings and celebrations. I know many of you, if not all, will have cherished memories. I remember the constant flow of visitors, and much laughter, crowded around that ridiculously small round table in the kitchen. No one could just visit and escape without Mum's endless supply of delicious food, but that is another story.
I have discovered in the study hundreds of letters of gratitude written to Mum and Dad, thanking them for their hospitality, describing their visit as memorable for the beauty of the natural environment and the joy of experiencing what Dad and Mum had created.
There were also letters from people telling Dad what joy his pots gave them. I remember one letter to Dad in particular, written by a mental health therapist, who at the end of the working day came home to meditate on one of Dad's pots.
She described how this pot radiated tranquility and brought her so much peace, prompting me to ask Dad: "Is this why our house is so tranquil?" Then again I said, " Imagine what the house would be like without all those pots radiating tranquility!"
As a father, he was always trying to be fair and protective as well as fun. He had a mischievous sense of humour and would delight in practical jokes. He thought it was particularly hilarious to put various objects in our beds to scare us or annoy us. No time was safe and his particular favourites included hairbrushes and ice!
He had always harboured a boyhood dream to drive a fire engine. His chance finally came when he joined the Shipley Rural Fire Brigade. One day the brigade was out at Le Var and Dad asked if he could drive the Fire Truck. He was given permission to drive it to the lookout at the end of the road. As he arrived at the lookout, he was met by a group of incredulous tourists who asked how he had managed to get there so quickly? To his horror, he realised that there really was an actual fire, so thinking quickly, he turned the truck around yelling "I will be back" to the startled tourists.
He was never idle. He was always doing something whether building, teaching, working towards exhibitions, socialising, or taking us on holidays. Some of you may not know that in the early days of their marriage, Peter even built some of their furniture. Although there must have been worries and responsibilities, he never appeared stressed or harried. He used to say, "Travel hopefully."
Being fiercely independent, he would always do something himself rather than get others to do it for him. This may explain some of the rustic attributes of the house and studio. People may remember, for example, the uneven slate floor in the kitchen, the doors that never quite closed properly. He was well known for his bush carpentry.
There are too many stories to tell, too many memories to share. I will draw this eulogy to a close with a simple list of Peter characteristics.
Peter hated clerical work and bureaucracy. I asked him once how he coped with the bureaucracy at his work and he replied: "Oh, well, a lot of correspondence went in the bin." He did not always do everything by the book.
Peter was not status conscious. He appreciated aesthetics but was not vain about his own appearance. As visitors to Le Var know well, his clothes were inevitably covered in clay.
He loved chess and classical music.
He resisted modernity. He never used a mobile phone but he could reply to emails. He lived in a world that valued other things.
He was a great bushwalker. His stamina saw him leave much younger walkers struggling to keep up. He loved nature in all its moods.
He was a devoted and loyal husband. Mum felt privileged to be able to care for him and to be with him until his final moments.
I think this last quote from William Blake I found in Dad's study is an appropriate way to close:
"He who binds to himself a joy, does the winged life destroy. But he who kisses the joy as it flies, lives in eternity's sun rise."
Peter and Bobbie, photo: John Dermer
---
Reflective Thoughts by Susan Rushforth: A daughter's perspective
Leura, 28 July, and Blackheath, 16 August, 2015
Elizabeth, Janet and I have been fortunate to have had a father for such a long time. He tried to instil in us the values of simplicity, an appreciation of beauty, a love of nature, and the importance of friendship and community. Dad's concept of simplicity in all things was reflected in our upbringing, and particularly our childhood in the 1950s in our first family home in Beecroft (on the then outskirts of Sydney) with a bushland context. We entertained ourselves in the bush and with friends, despite Dad making billy carts and piggy banks for us as well as providing art materials for our use.
The most important space of our Beecroft home was the courtyard, which became the centre of activity for the whole family. The courtyard was the home of Dad's kiln and the repository of his pots waiting to be turned and fired. Such was his passion that the courtyard was often full of pots, and at an early age we learnt to manoeuvre ourselves around the pots without causing any breakages. We think that he was able to make so many pots not only because of his passionate drive to create and Bobbie's support, but because he found a way to escape the family chaos. He has proved to be good at plotting escapes!
Difficult financial situations as an artist potter, coupled with his approach to a simple life style did not allow for us to receive bought gifts so he showed his love in other ways. He encouraged us to find joy in making things. He set up a large table in the garden and gave us clay, pencils and paper. We loved it when he showed us how to draw portraits and make pinch pots and kites. The piggy banks he made for us were appreciated but unfortunately we could not get our money out without breaking them.
The bushland opposite was magical and we spent our childhood playing in the creek and building cubby houses, often with our dear friends the Slatyers.
The highlight of our childhood was the holidays we spent together either on camping trips or in rented cottages by the sea. Our favourite holiday destination was at Wimpy Beach, near Batemans Bay. Dad would erect a heavy four-post tent and meals were cooked over an open fire using a jaffle iron.
Sailing became another experience of our holidays when Dad bought a small sailing boat, a Heron, which was towed up and down the coast on each holiday. Dad was fearless tacking in southerly winds. After a move to our new home at Church Point, in Pittwater, Dad was inspired to buy a larger boat, which was kept in McCarrs Creek. On one boating outing, Mum accidentally knocked Dad overboard when she turned around quickly to steer the boat away from encroaching rocks. Dad was thrown into the water, but surfaced to continue giving Mum instructions still wearing his hat and glasses.
On moving to Le Var, on the Shipley Plateau near Blackheath, Dad found peace, solitude, open space and a wonderful helpful community. Displaced by increasing suburban development the search for living in remote places, close to nature and particularly the energy of the bushland, aligned with both our parents. It also meant that their quest for a living environment was over and a further stimulus for creative work was encouraged by the place and its diverse community.
I would like to thank everyone for their love, friendship and support.
Susan Rushforth
27 July 2015
Le Var, 2012; photo: Anthony Browell
---
Rebecca and Isabel Berrell
Leura 28 July, and Blackheath 16 August, 2015
Peter Rushforth: "Da"
Rebecca Berrell:
For those who do not know me, I am Rebecca, Elizabeth's daughter and Peter and Bobbie's granddaughter, and only grandchild in fact. But you rarely hear me call him Peter. To me he is Da and this name came about when I was very little. Many of you who know Bobbie and Peter well, would be familiar that when Bobbie was not calling him "Petie", she was calling him "Darling" or "Darl". Being only 2 and learning to speak, when I said "Darl" it came out as "Da" and that is what I have called him ever since. Both Da and Bobbie were a huge part of my childhood and I spent most of my school holidays up at their Blue Mountains property, ##Le Var##, exploring. It really was the best playground you could wish for. As mentioned, Da had a great sense of humour and loved joking around. He had a quick wit and a true ability to deliver a captivating and entertaining speech with little or no warning. He spoke at numerous functions for me over the years, and my husband, Neil, and I were honoured to have him speak at our engagement and wedding, in place of my late father. I remember approaching him at my engagement party to talk and he had no warning but hopped up and delivered an amazing speech to 150 twenty-something-year-olds and had them all in stitches and asking if they could hire him to talk at their parties. He is such an inspirational person and I have always admired his generous, humble and philosophical qualities and am amazed at what he created and what he has achieved. But all in all I remember him most for being my grandad and an amazing one at that, and I have endless memories that will live on forever.
Seven years ago Da became a great grandfather to Isabel, which made him so proud. Two years later he was overjoyed when the first male in his family tree was born, Byron. Another 2 years and I was happy to bring another male into the family, Ryder. I am so glad my three children got to know the wonderful man that Da was, and for the older ones, who will have memories similar to my early ones of Da and Bobbie and Le Var and all the joys that come with that. Right up until the end, just the sight of his great-grandchildren would bring a smile to his face.
Neil, our children and I feel honoured to have had him in our lives and we will miss him dearly. My daughter, Isabel, would like to speak on behalf of the great-grandchildren.
Isabel Berrell:
My name is Isabel and Da was my great grandfather.
He was very special to me.
He taught me how to pot and play chess.
I have fond memories of feeding the horses with him and going on bushwalks.
My brothers, Byron and Ryder, and I love him so much and we miss him.
Thank you.


Bobbie and Rebecca, Blackheath Community Hall, 16 August 2015; photo: Grace Cochrane
---
Bill Samuels
Leura, 28 July 2015
When Bobbie and the girls asked me to say something I imagined I'd be one of many; at that time the memorial service was looking extremely uncertain.
I couldn't imagine not saying something about Pete somewhere and at some time but when it became apparent I was the only non-family member to speak at his funeral, I suddenly felt the weight of the rest of the world bearing down – given my heightened anxiety and panic after hearing the wonderful eulogy Janet had prepared, and covering everything I had intended to say (and more), it's a wonder my voice worked at all.
I remembered very clearly the conversation Chester and I had had just before the start of the service about the temperature cones he placed on Pete's coffin and we joked about Pete finally getting to temperature … Chester and I are old mates and we both knew Pete would appreciate the joke as well; that was the only thought going through my head on the way to the lectern. Standing there I suddenly decided to focus on the fact that Pete had touched the lives of thousands in the broadest and most positive way imaginable; that I'd known him since 1966; that we had all copped something of his wicked sense of humour in one form or another; that we'd holidayed together on several occasions and held the East Sydney ceramics experience in common; and that we had waged war over the chess board for 30 years in some very strange and wonderful places.
I remember looking at Bobbie and saying the phrase "Peter and Bobbie" – it was simply inconceivable to think of them individually.
About Pete … It sounds a bit clichéd talking about him in terms of his love for humanity, his legendary tolerance and patience and total lack of judgement (we all knew the horrendous nature of his story), and all of that before even considering his enormous contribution to the development of ceramics in Oz – but that was Pete.
I distinctly remember a conversation with Graham Oldroyd in the early '80s in Pete's old office at the NAS. We had begun to develop a new Diploma of Ceramics course for TAFE and the question came up: what did Peter actually teach? The answer: the stuff you can't write into a curriculum – humanity, tolerance, patience, love. The bit you can write about seems secondary – to make ceramics that enhance the quality of one's life, that speak of the human touch and beauty. In that order!
A visit to the Rushforths was always an event and apart from wonderful conversation and being plied with fabulous food, it was sometimes surprising what had found its way onto the back of the ute when you weren't looking – I know Chester copped an old dunny can and I've carried home some old empty paint tins and other bits and pieces.
The only time Peter's extraordinary qualities deserted him was over the chessboard – that could be total war, in the most polite way.
In 1984 we travelled together on a flight across the deserts to Broome, back across the top to Cairns, and home again via the east coast. Whenever we landed, out came the chessboard and by the time we got home I had thoroughly lost the first tournament. Over the next 30 years we played thousands of games. In '94 we were both coincidentally in Japan, but still managed to meet up and get in a few games in a YHA, at the home of a mutual friend where we stayed, and once on the shinkanzen where the normally reserved Japanese burst into laughter when the train suddenly lurched sending board and pieces flying everywhere.
Over the years we had 'the mostest' fun playing chess against each other. If we were on the train to Sydney, out would come the chess. At least on the train the terrain was equal, there was no terrible music or strategically placed light 'to help', only the need to be vigilant of his New York School technique, placing crucial pieces 'just over the edge of the square' so you could easily misread the board, although we did stop playing with the ivory pieces he picked up at a garage sale – it was too easy to hide smaller pieces behind larger ones. Games were absolute fun and deadly serious at the same time, even the ones that went on till midnight.
There are lots of stories – his string and sticky tape approach to scaffolding, the only ladder with the missing rungs – Pete was a 'one-off', a great man in every sense of the word. He made beautiful pots and will be sadly missed for a long time to come. I still think of him often, especially when confronted with some issue or other – I turn to Clara and ask, "What would Pete do in this circumstance?"
I suspect his influence will continue to be felt and evaluated for a long, long time – for thousands of us.

Peter at Le Var; photo: Anthony Browell
---
Simon Reece
Blackheath, 16 August 2015
For a number of years I would meet with Pete on a Tuesday morning, have a cuppa and a have nag for about an hour. It was a very human ritual.
We would talk about anything and everything, invariably getting to the philosophical questions on the nature of things. Do universal aesthetics exist? Are rationalists looking for a God solution? Is empiricism the only knowledge? Is beauty in the eye of the beholder or does it exist somewhere else? Do we follow Seneca or Murphy? Peter marvelled at the world.
For me, he was the embodiment of the serendipitous that exists in ceramics – he was always just winging it! This, of course, was because of the phenomenal empirical base of knowledge that he had.
If Jody and I are ever in a quandary in a difficult social situation we both look at each other and ask, "What would Pete and Bobby do?" We take a breath, relax and let things be …
Peter only spoke of the war once to me and it was in the context of one of his mates dying. He said that on that day he realised how beautiful the light was, filtered through the forest canopy.
The other day my son, Seamus, asked if Peter was really dead. I told him, "Yes, but I know Peter's humanity remains with us all."

Photo: courtesy Rushforth family
---
Trevor Shearston: novelist and pyro
Blackheath, 16 August 2015
The glaze kiln at Le Var was a temperamental beast, but it sometimes gave you a few minutes off. If Pete and I were on our own he'd want to talk books and writing.
"So tell me," he'd say, "what are you reading?" To his intense disappointment it was never Plato or the history of chess. He would listen politely if I mentioned a novel, with more interest if my current reading was history or archaeology.
Then he'd say, "And what are you working on now?" He'd react with horror and disbelief when I'd tell him – still the same thing as the last time we spoke.
"And how long is it now?"
"Oh, eighty or ninety thousand words."
He'd shake his head. "I don't know how you do it."
And I would say, "Yes you do, Pete – it's the same set of disciplines you bring to making pots."
And we'd be into the game we'd played before, but a serious game. Pete trying to make the case that writing was infinitely harder than making pots, and me making the case that writing and pots came from the same place. The reason for the game was that Pete wanted to write, knew he needed to – not autobiography (he vigorously opposed doing that) but about ceramics. He had to keep convincing himself that he couldn't, it was too hard. That was what he wanted me to tell him. And of course, I wouldn't.
"But where do you get it all from?" he'd say. "The story, the people, the conversations?"
"From the same place the pots come from. In my mind I see people, hear their voices, then try to transfer them to the page. You see in your mind a pot or a glaze and then you try to create it as you see it." "No, no. I'm working with physical objects, working with my hands. You've got nothing but words."
He was being deliberately obtuse. He knew very well that all creative processes spring from the mind, no matter what the form or process. He didn't read philosophy for nothing.
"Well what would I do if I wanted to write?"
And I'd say, "You've been a teacher, Pete. You must have done some writing before."
"I've got some scribbles. I don't know where they are. I'll try to find them for the next time you're here. But how would I start, what would you suggest?"
"Start with a question; for example, what is a good pot?"
And he'd nod. "Good idea, good idea!" As if it had never occurred to him before. Like all good teachers, Pete was an accomplished actor. Then he would abruptly change the subject. He was also a master at changing the subject.
We returned to this game a number of times. I never got to see those 'scribbles'.
So he's gone and we don't have on our shelves The Meaning of Beauty by Peter Rushforth, or a history of chun. But we have the pots.
Like many of you, I was awed by the retrospective.
The pots don't speak only of the technical skills he had. They embody the human qualities of the man. They will last as long as stones last, will (as Gary Snyder says in The Firing) "speak to beasts and men when Japanese and English are dead tongues".



The kiln at Le Var; photo: John Dermer
---
Paul Maloney
Blackheath, 16 August 2015
Good afternoon. My name is Paul Maloney and I have been asked to speak of Peter's relationship to that elusive, and ill-understood, matter called "Zen."
As many of you know, Peter had an enduring interest in Zen Buddhism, particularly its aesthetics and the belief in the sacredness of the natural world.
A special feature of Zen Buddhism, as it developed in China, was that it brought the Buddhadharma down to earth, making it directly accessible to everyone. As the Japanese Rinzai Zen teacher Hakuin Ekaku wrote in his Song of Zazen:

All beings are by nature Buddha
As ice by nature is water.
Apart from water there is no ice,
Apart from beings no Buddha.
And the Chinese Zen master Chao-chou, when asked, "What is Buddha?" replied, "The pine tree in the garden."
Very clear, very direct, I think you will agree.
To Awaken to this fact, is the goal of Zen Buddhist practice, and this Awakening is expressed in the art inspired by Zen. I believe this is what attracted Peter to Zen.
For the Zen Buddhist, the most effective way to Awaken is by the practice of zazen, sitting meditation. As far as I know, Peter never practised formal meditation in a Zen dojo. Peter's meditation practice consisted of sitting at his potter's wheel. It was there that Peter realised, made real, his true nature as a potter. For when the potter's mind is centred in the abdomen, and the clay centred on the wheel, in that deep absorption something mysterious unfolds. And in that space it is possible to understand that the spiritual truth for which we seek is nothing other than the world of our daily experience, which means this moment. And if we miss this moment, we miss our life.
In this present age, when everything from a cup of coffee to a roast lamb dinner can be had instantly, it is often hard to understand how some people can take pleasure in devoting thirty minutes of their time to making a cup of tea. And for those who have to check their Facebook every five minutes, the prospect of being absorbed at a potter's wheel for half a day is quite unimaginable.
Not so for Peter. Through his contact with Japan, Peter saw clearly that seemingly mundane activities of daily life can be elevated to high art.
The Tea Ceremony, for example, is fundamentally nothing more than making a cup of tea and serving it to a guest. Hence its name in Japan, Chanoyu, simply means "Hot Water for Tea". In practice, however, it is a highly skilled discipline, one that takes many years to master.
Peter enjoyed visiting our home where he and Yayoi would inspect and discuss tea bowls and other ceramic utensils that Yayoi uses in the Tea Ceremony. Peter loved to hold the tea bowls, feel their weight, form, and texture and, of course, to drink macha from one of them.
Peter, by example, showed us that virtually any of life's activities could be used as a medium of creative expression and spiritual fulfillment. What is required is a particular state of mind, an attitude of respect, and a willingness to devote one's time and attention to a chosen activity. Painters, potters, musicians and dancers in all cultures, East and West (in fact anyone who loves their work), understand this. None appreciated this more than Peter, as can be seen in the heritage he has left for us. This heritage is to be found in everything he touched, not just his beautiful pottery, but also his family, friends, and students, and through them his spirit will continue to transform and beautify our world, into the future.
Thank you.


Peter's studio, Le Var, 2012; photo: Anthony Browell
---
Steve Harrison
16 August 2015, Blackheath
Others can speak about Peter as Husband, Father, Uncle, Gran-Dah, chess partner, etc. I knew Peter initially as teacher, then mentor, and finally a close friend, even surrogate father.
Peter was a great mentor to so many people. I was lucky to find myself on the receiving end of his generosity. I first got to know 'Mr Rushforth', as we all called him when I enrolled at ESTC, in 1971 – one of the very lucky ones. I found myself one of only 20 successful enrolments out of the 230 applicants that year. I got to know him a lot better when I started to hitch hike into the college.
I used to hitch into ESTC. One day along came the blue EH Holden. Peter recognised me as one of the new students and picked me up. I got many lifts into Tech like this over the next two years. It was during these episodes of hitching to college that I got to know Mr Rushforth a lot better.
Later he asked me to be his workshop assistant at his studio in Church Point, one day a week. This mostly involved wedging the clay and making up the balls of clay for him while he threw on the wheel. I had plenty of time to observe him throwing and gained an insight into the quiet characteristics of his gentle working of the clay. Peter wasn't a 'slick' thrower. He took his time and managed to get a terrific softness and subtlety in his forms. He managed to get the clay to express his innate, caring, humanity. He was just so essentially helpful and encouraging to all his students.
I remember when I first started teaching at ESTC. Peter said, "I'd better give you some keys." He led me into the office and took out a big key ring full of keys. He worked at undoing a key from the key ring. Some time passed and still he was working at the keys. I waited. He worked. Eventually, without looking up at the time, he said quietly, "They give tests like this to monkeys."
My partner Janine King and I were both students of Peter's at the Tech. Peter always maintained that as he introduced us, he was entitled to be paid a matchmakers fee as a marriage broker. This topic came up again and again over the years. "Did you know that I introduced these two young people? I'm still waiting for my brokers fee!"
Peter was so cheeky and mischievous. At one time, one of the staff had a new puppy too young to be left at home all day alone, so he spent the day in a cardboard box in the office with a hot water bottle. Peter would pick up the adorable little puppy and say, "here have a cuddle" then pass the dog over to someone to hold. Simultaneously, he would have secreted in his hand a wet sponge, and as you sat down with the puppy in your lap he would squeeze the sponge as he released the dog, wetting your lap. Each one of us in turn fell for it. It worked every time. We all thought that the dog had wet on us. It was his beaming grin that gave the trick away!
We visited Peter and Bobbie often up at Shipley. In the early years up there, we could never find them alone and have them to ourselves. There were always so many visitors calling in, coming and going, throughout the day. There were so many visitors calling in on a regular basis that I don't know how Peter managed to find the time to make any pots. I have fond memories of the endless cups of coffee or tea around the little round table, with Billy the dog and his rock collection sitting under the kitchen table. Billy would always bring a rock back to the house after a walk. His basket was so full of rocks by the end of the week that Bobbie had to clean it out so there was room for him to settle down.
After our workshop burnt down, Peter appeared with his overnight bag and announced that he was here for the week to help us clean up the smouldering mess. He even took us out each evening to the pub for dinner so we didn't have to think about cooking after a long, dirty, dusty day working in the ashes. He was endlessly thoughtful and generous like that.
We lived at Le Var with Peter and Bobbie for a couple of weeks in about 1978 while we built the first woodfired kiln. It was a unique experience and a very precious one. After the first firing, he organised an exhibition at Le Var to announce the opening of his new studio. He invited Janine and me to show our pots there too, with his, as a way of thanking us for our effort. He was so endlessly thoughtful and supportive.
When I wrote the first draft of my book, Laid Back Wood Firing, and showed it to Peter for comment. He asked, "So what are you going to do with it?" I said that I thought that I'd like to get it printed as a booklet. But it was a bit beyond me financially, as I didn't have the $500 that it would cost back in 1976. When I returned after lunch, there was $500 sitting waiting for me. He told me to pay him back some time in the future, when I found that I could.
Peter and Bobbie drove down to visit us at Balmoral Village on the morning that our son Geordie was home birthed, our new son's first visitors. That was a beautiful moment to share with close friends.
On one visit I noticed that a tree had blown over in a storm in their garden, and I asked Peter, "What are you going to do with that dead tree. It appears to be a Japanese cedar; there'll be some nice timber in there." He replied that I could have it if I wanted it. I said that I did indeed want it and returned the next day with my truck and chain saws to mill it up into planks.
After seasoning for a few years, I made Peter and Bobbie a chair each out of the wood. It was soft, light-weight and beautiful to work with and the timber has a lovely grain. It has been made into a few beautiful chairs and I still have quite a bit of it left for other projects. The gift of the chairs was my way of saying thank you for everything, not just the opportunity to forestall waste and to be creative with this windfall tree. I am grateful to Peter and Bobbie for all the years of friendship and support. They have been endlessly supportive and generous over the years, not just to me, but to everyone in their circle. They have led exemplary lives and are an inspiration to us.
I am so grateful for all the support that Peter and Bobbie gave us and to have been able to be tangentially involved in their lives.
The studio at Le Var; photo: John Dermer
---
John Dermer
Blackheath, 16 August 2015
I was inspired and encouraged by Peter for almost 50 years and, even with his passing, this will continue. I am inspired by his humility, which is manifested in his pots. He encouraged me when bad firings had me questioning my direction as a potter.
When I first visited Peter and Bobbie in 1971, I purchased three small pots. They were then, and remain to this day, a reference book for me. I have strived to recreate their spirit, which of course was never possible as rarely has the world been given a potter such as Peter where his hands, his heart, his very life is personified in his pots.
Visiting Le Var was like that. There was no division between the beauty and warmth of Peter and Bobbie, their home, their beliefs, their love or the pots from which a meal was shared. Fond memories flood back of breakfast with porridge, tea and toast, fresh squeezed orange juice and diced fruit, of Peter's wry ignoring of Bobbie's pleading not to remove the toast from the toaster with a variety of implements including a knife. And then there was the choc-chip Connoisseur ice-cream after the evening meal, or after lunch if he got the chance.
There were times in Peter's life where I cannot start to imagine the hardships and tragedies he endured. He always found something positive and hopeful to hold onto though. He saw hardship and failure as an opportunity; he saw beauty in the simplest of things.
Bobbie talked about Peter's kiln openings, finding it often too difficult to experience the disappointment in Peter's face if it was a bad firing. Instead Bobbie waited anxiously to see Peter hurrying back to the house clutching a still warm pot wrapped in a towel – a pot to share, a joy to share, a life to share.
There is an old adage suggesting that the two most important gifts you can give a child are roots to grow with and wings to fly. Peter's teaching philosophy embraced these things. He knew only too well the importance of a thorough grounding in the foundations of his art form. His curriculum was designed to expose students to every important aspect of this art form and to ensure enough experience was gained in each area in order that a sustainable future could be possible. But he also encouraged and facilitated a freedom of direction so that students could develop their own paths. And it didn't end there. Le Var was always open and welcoming to these students. It was a place of pilgrimage for many where Peter was always forthcoming with interest, encouragement, affirmation, and suggestions for problem solving or just genuine friendship. Together Peter and Bobbie would make everyone feel welcome and at home.
Peter often told me that he still waited for that special pot … the Holy Grail! For me, in their lives shared, they had found it … and I feel so privileged to be one of the fortunate people who were able to share some of it with them.
Thank you my friend.
Peter Rushforth, c.1985; photo: Col Levy
---
Grace Cochrane AM
Blackheath, 16 August 2015
Thank you, Bobbie, Susan, Janet and Elizabeth, and your wider family, for giving us the opportunity to speak about our dear friend Peter Rushforth – a well-loved husband, father and grandfather, and also, as everyone is reminding us, an inspirational potter, colleague and mentor.
Everyone here has so many memories, and so many stories, about this wonderful man. I met him in the mid-1970s when we were all involved in the development of the Crafts Councils' network, and the formation of the Australia Council. We were both on the Crafts Board of the Australia Council from 1977 and all enjoyed his wise counsel. He had also been, as you know, a founder of the Potters Society in 1956, following the beginning of his influential role at the National Art School from 1951. This led on to the formation of the Ceramic Study Group in 1963, by ex-students leaving to make way for all the others wanting to enrol, and he was to be a revered patron of this group.
So I knew him for at least 40 years. Unlike so many of the lucky people here, I wasn't a student, but was aware of the development of his own work as a potter as well as the influence of his teaching. This has been recorded in various books, catalogues, and films over the years, most recently with the retrospective exhibition at S. H. Ervin gallery (which Natalie will talk about), Turn, Turn, Turn at the National Art School, and the inspirational documentary made by Christina Wilcox.
Many curators and writers have valued the contact with Peter and Bobbie, and the quality of his work. I remember well, as a fairly new curator at the Powerhouse Museum, the excitement of acquiring a jar with a tenmoku glaze from David Jones Gallery in 1990, and another jun-glazed vase later in 1996. Then there was a small display in 1996 to celebrate his 50th year as a potter. Peter's work is in many similar important collections throughout the country, and he has been honoured with a number of awards. And apart from seeing his work in exhibitions, there were also all those wonderful events that brought so many people together at Le Var, and where as well as displays in the gallery, some pots gleamed in the sunshine from their positions on tree-stumps.
One of the most consistent observations I have had over time, has been seeing the continuing respect, affection and love that so many people have felt for Peter – and how they have shown that through the way they have kept in constant contact with him throughout his so-called 'retirement' at Blackheath. As well as the continuing contact with all those who helped with kiln-firing, the regular visits from chess players like Bill Samuels, Keith Rowe and others – where friendship was also edged with both serious and mischievous competition, and constant calling-in from colleagues and friends passing through Blackheath, many have travelled long distances to keep in touch. Some of these include Steve Harrison and John Dermer, who are speaking today. These were not just visits; they were pilgrimages.
These people kept in touch for many reasons: they were aware of the way he dealt positively with his complex history; they love his work; they have enjoyed the relationship they have with the dual person called Peter&Bobbie, who were together 65 years; and above all they have respected and admired the very special sensitive and generous qualities of the man himself. The title for a 1970s film about him was Heart, Head and Hand – that spells 'integrity' to me, and that is what I think he represents to all of us.

Photo: courtesy Rushforth family
---
Natalie Wilson
Blackheath, 16 August 2015
I remember clearly the day I first met Peter and Bobbie at Le Var. It was a beautiful spring day and the sky was brilliant blue. As I drove up the driveway the scent of eucalypt filled the air. Peter quickly emerged from the house and greeted me with a bright smile and warm embrace and led me inside for the first of many meals seated at that round table, drinking tea and talking for hours. I cherish this memory of my first visit. My trips to Le Var became more frequent after I suggested to Peter that a big exhibition of his work was long overdue, and would he consider a retrospective at the National Trust S.H. Ervin Gallery. It had been almost thirty years since his last survey show at the National Gallery of Victoria in 1985. With absolute sincerity he asked me, "Who would want to see all those pots?"
For the following eighteen months I had the enormous privilege of holding hundreds of Peter's pots, with their sensitive forms and luscious glazes. Each trip back to Le Var, laden with photographs of all the works I had seen, Peter would do his best to recall where he had produced a particular piece: Beecroft, Church Point or Le Var. Occasionally, when he saw a piece he wasn't thrilled with, he cheekily requested that I go back to a museum or private collector's home and take a hammer with me. The morning of the opening of his exhibition at the S.H. Ervin Gallery in July 2013, as Peter walked among the 172 assembled works, including pieces from his last firing at Le Var, he told me it was as if all his children had come home. That evening, Peter and Bobbie, together with their family and hundreds of friends and colleagues, celebrated long into the night. There wasn't a hammer in sight.
Vale Peter Rushforth