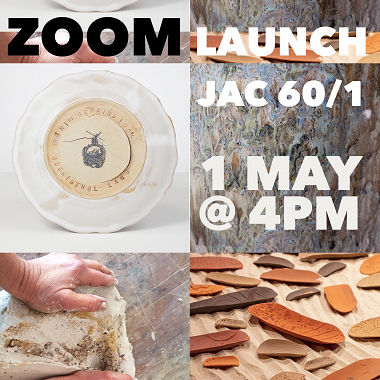 COME JOIN US ON ZOOM FOR OUR APRIL JAC LAUNCH
Meet some amazing artists, writers and researchers, ask that burning question and go behind the scenes of our new issue!
OUR GUESTS: Yul Scarf, a National Art School Graduate who shares their thoughts on the big burning questions – the land, its colonial history, and the clay we use; Owen Rye gives us some guidelines in his glazing for beginners article; Pattie Beerens looks at our special relationship to clay through her interviews with ceramic artists and potters from around the globe; and Jody Rallah and her project in which she collaborated with various Indigenous communities. Bridie Moran, JAC Editorial Assistant, will also join us, to chat about some of the conversations she had as she prepared this issue.
We hope you can join us for this Saturday afternoon gathering of TACA members, JAC subscribers, and those who buy The JAC some other way. As well as introducing a handful of the people involved in this April 2021 issue and having a chat with them, we will allow time for questions. We will pack as much good stuff as we can into the 90-minute Zoom meet. A copy of The JAC on your Zooming table is advised.
Limit: 100 registrations
Register in advance for this meeting HERE.
After registering, you will receive a confirmation email containing information about joining the meeting.
See you there!