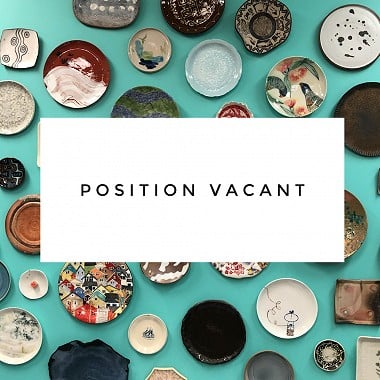 POSITION VACANT: TACA ADMINISTRATION ASSISTANT
16 hours (2 days) per week
Permanent, part-time position
TACA's office is located at Square 1 Studios, 32 Bowden St, Alexandria NSW 2015.
The Australian Ceramics Association (TACA) and The Journal of Australian Ceramics (JAC) requires an Administration Assistant.
Hours of work: 9am – 5pm, or as agreed by Executive Officer and Administration Assistant
Days of work: as agreed by Executive Officer and Administration Assistant
The administrative position deals with tasks related to the processing of TACA memberships, JAC subscriptions, online shop orders and various routine office tasks. Other tasks arise as determined by publication cycles of the JAC, most notably the mail-out of The Journal of Australian Ceramics three times per year.
The role would suit a person with previous experience in an administrative/clerical position. Flexibility with working days is essential. The Association particularly encourages applicants with an interest in Australian studio ceramics.
GENERAL TASKS:
information management, database entry and maintenance
record keeping: weekly, monthly and as determined by the publication of the Journal
reception duties & customer service
correspondence: email and post
REQUIRED ATTRIBUTES:
excellent MAC computer skills along with a willingness to acquire additional computer-based skills
overall accuracy and attention to detail
excellent communications skills, written and verbal
REQUIRED SKILLS:
use of DATABASE PLATFORMS to create and maintain customer records
use of OFFICE (word & excel)
use of Apple MAIL for email correspondence
Clerks - Private Sector Award [MA000002]; level 4
Please email Vicki Grima, EO, (mail@australianceramics.com) if you have any questions.
Applications: To apply, please send an email to mail@australianceramics.com, ATT: JOB APPLICATION, outlining how you meet the requirements of this position, along with a 1-page CV/resume.
Applications close Monday 13 December 2021.
Vicki Grima
Executive Officer, The Australian Ceramics Association
Editor, The Journal of Australian Ceramics
E: mail@australianceramics.com
T: 1300 720 124; 0419 250 282
australianceramics.com