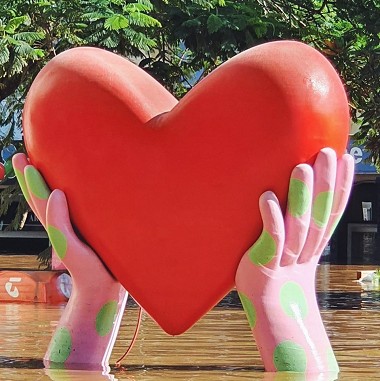 FLOOD NEWS – UPDATE 26 MARCH 2022
The Australian Ceramics Association Board, staff and members have been saddened and distressed by the news that many in our Australian ceramics community have suffered severe damage to their homes, studios and properties after the floods in northern NSW and south-east QLD.
Many have contacted TACA expressing concern along with a wish to help those impacted and we have already heard from some who have been severely impacted. We will continue to be in touch with those who are affected and seek information from them to find the best way to help them directly.
NEW 26 March 2022
POTTERY FOR THE PEOPLE
Spark joy by donating ceramics to flood-impacted communities :)
Many people in Northern NSW lost all their belongings in the recent floods, a lifetime of treasured possessions washed away in the mud and debris. Potters and ceramic artists are invited to donate mugs, cups, plates, vases and other functional pieces so that those who have lost their possessions can experience the joy of handcrafted beauty as they rebuild their lives. By each donating one or two pieces (or as many as we're able), we can help people on the road to recovery. If you would like to contribute, please send your pieces to Jenn Johnston, 17 Gordon St, Mullumbimby NSW 2482
You may like to include a short note to the recipient. A team of local potters will liaise with our Community Recovery Hubs to distribute the donations where they will spark most joy.
Any questions, please email: [email protected]

FIRE UP FOR LISMORE UPDATE
Last call out for @fire_up_for_lismore
@fire_up_for_lismore launched on 1 March as a heartfelt response to the flood devastation in the Northern Rivers Region of NSW and south-east Queensland.
@fire_up_for_lismore is a platform for ceramic artists to make, sell online and donate 100% of the proceeds of the sale of their work to a charity or organisation that helps directly flood victims and aids in the flood recovery in Northern Rivers Region of NSW and south-east Queensland.
@fire_up_for_lismore is finishing up as an Instagram platform on Thursday 31 March at 5 pm (AEDT). For those who would like to contribute, you still have 4 days to post an image of your work and advertise the sale price on your private Instagram account. Please specify that the closing date for the sale of your work is 31 March. It is important that you tag us @fire_up_for_lismore and hashtag us #fireupforlismore so that your work can be reposted and the sale and, your donation acknowledged in our tally.
The team @fire_up_for_lismore are profoundly grateful to all that have contributed to this successful fundraiser. We greatly appreciate the generosity and support of the Australian ceramic community. Your donations to support flood recovery already exceed $20,000.
instagram.com/amandabromfieldartist/
instagram.com/kaz.davis/
Earlier FIRE UP FOR LISMORE post:
This Instagram account was set up by Amanda Bromfield who is now assisted by Kaz Davis.
Go HERE to read about this opportunity for potters and clayworkers in our ceramic community to make an object, sell it online and donate 100% of the sale of that object to a legitimate charity or community organisation that directly benefits the flood affected residents of Lismore, the Northern Rivers Region of NSW and South-East Queensland.
To be involved, follow the seven steps below:
1. Post the object onto your personal Instagram or Facebook page. The object can be advertised for a specified price or auctioned off to the highest bidder. It is preferable to nominate a time frame to achieve this. Give details in your post: materials, size, your location, and how postage will be covered.
2. Add to your post that your work is being offered as part of fire_up_for_lismore. This allows us to easily share your post. Tag #fire_up_for_lismore or @fire_up_for_lismore.
3. Instruct the purchaser to deposit the payment into the account of the charity of your choice.
4. Ask the purchaser to provide proof of this transaction.
5. The sale is finalised upon when you sight the proof of the transaction.
6. Mail /courier object to purchaser. Price of transportation can be included in the purchase price
7. Use the hashtag #fireupforlismore
8. Direct message (DM) the sale price, the donation, the charity receiving the donation etc to @fire_up_for_lismore
9. Share details of the fundraiser far and wide :)
The FIRE UP FOR LISMORE account is administered by Amanda Bromfield: instagram.com/amandabromfieldartist/ and Kaz Davis: instagram.com/kaz.davis/.
---
CLAY FOR THE NORTHERN RIVERS

This fund has been created by Trudy Gould, an architect currently studying a Diploma of Ceramics at Lismore TAFE. She lives in the Northern Rivers 2480.
Trudy is fundraising for the Lismore TAFE ceramics community of which she is a member. Your donation will go directly to the people and institutions who need it, supporting local clay-based businesses and the Northern Rivers' clay community.
The Funds will be spent by:
Lismore TAFE students' to facilitate the purchase of lost tools supplies and repair or replace damaged equipment: and
Local clay businesses (such as Northern Rivers Pottery Supplies) helping them get up and running again.
To donate money to this fund please click here: gofund.me/5092a1c7.

---
HELP ANTOINETTE AT BASSO STUDIOS
Billy Burke and Monster Mouse are organising this fundraiser on behalf of Antoinette O'Brien.
Just like the rest of Lismore, Basso Studios has been devastated by unprecedented flooding.
Basso is the studio space of Antoinette O'Brien, a much-loved, multi-disciplinary artist of the Lismore arts community. She was a long term Monster Mouse Studio artist in Marrickville before establishing her ceramic practice in Lismore. Before then she was practising in Tasmania.
Her studio, livelihood, art making materials, sculptures and belongings have been submerged by the brutal 14.4-metre-high flood.
Art making is her primary source of income. The impact of this event is catastrophic for Antoinette and her family who have been rescued and have had their home destroyed.
To donate money to this fund please click here: gofundme.com/f/help-antionette-at-basso-studios-lismore
---
RICHMOND RIVER HIGH, LISMORE: a message from Kate Brentin, teacher

Dear ceramics community,
I am the ceramics teacher at Richmond River High in Lismore. Our school has endured many floods, but this one was catastrophic! The whole school was inundated with contaminated flood water (our school is built 12 meters off the ground)!
The Ceramic course is one of the most popular within the school. The school community are from a low socio-economic area. They face adversity at the best of times. Evidently we have lost everything in the studio – kilns, wheels, glazes, slips, molds, bats, tools, plaster and buckets. You name it we have lost it.
I know we will come though this colossal tragedy together, as nothing breaks the Northern Rivers Community Spirit! If you can help in any way, all of us here at Richmond River would be so grateful and humbled by your generosity.
Thank you for putting out your hand to help.
Regards, Kate Brentin
Call Kate, T: 0438 225 370
---
GIVIT: givit.org.au/storms-and-flooding
FOOD BANK QLD FLOOD APPEAL: foodbank.org.au/QLD/flood-emergency-appeal/
RED CROSS: redcross.org.au/floodsappeal/
FRRR (FOUNDATION FOR RURAL & REGIONAL RENEWAL) FLOOD RECOVERY APPEAL: frrr.org.au
---
This page will be updated regularly along with our social media channels as news comes in about how we can help.
Email us with information: [email protected]
Facebook: facebook.com/theaustralianceramicsassociation
Instagram: instagram.com/australianceramics