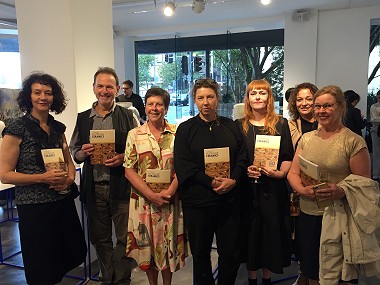 TACA BOARD NEWS APRIL 2022
by Kate Jones, President
TACA Board met on 1 April 2022 at TACA's Sydney office.
It has been a long time since we sat in a room together but the entire TACA board met face-to-face at the beginning of this month.
The night before the meeting we gathered at the Australian Design Centre (ADC) for the opening of the SIXTY exhibition and for the launch of The Journal of Australian Ceramics 60th anniversary issue, Vol 61 No 1. Most of the SIXTY artists were in attendance and the mood was buoyant, the work beautiful. It was special for TACA board to be able to celebrate this momentous occasion with Vicki Grima and TACA staff. We are also grateful to Lisa Cahill and her team at ADC for making it happen, as well at to Anna Grigson of Sabbia Gallery for her curatorial expertise.
Friday morning we held our regular board meeting at TACA office. Among matters considered were the software-as-service membership platform. The new platform will not only simplify administration of subscriptions, memberships and insurance; it will also help to shape future membership offerings. I feel excited about the possibilities.
On Friday afternoon the board reconvened for more informal and extended discussions about the year ahead. We are into the final year of our current three year strategic plan and so are beginning a process of reflection in order to prepare for developing the next one.
The board is continually thinking about ways to connect our community, and to help share the knowledge and experience that is embedded in it. Mentorship is a word that comes up often. The Writer's Research Project is one such initiative, and the recently concluded Tools for Practice online panel series is another. Holly MacDonald and Alana Wilson conceived of this project whilst sitting on the board and showed great commitment in following through after retirement. The feedback has been overwhelmingly positive and you can look forward to the next iteration.
We also have a lot to look forward to, with the next stop the Australian Ceramics Triennale, Apmere Mparntwe, Alice Springs from 19 to 23 July.
Hope to see you there,
Kate
Our next board meeting will be held on the Zoom platform on 6 June 2022 at 2pm.
We welcome new TACA members who joined between 8 December 2021 and 14 April 2022:
Matthew Herakovich, Stephanie Meede Susan Marjoram, Shen-Ju Hsieh, Tamara Bevacqua, Sandra Younan, Samara Bult, Emily Carpenter, Lindsay Thorpe, Emmalie-Kate Bird, Simon Coote, Tessa Hoser, Catherine Walker, Joanna Cabot, Sam Ward, David Ryan, Chris Ellis, Jessie Bancroft, Jennifer Pattinson, Kasey Smith, Federica Pelizzari, Melinda Tocchetti, Esther Dobson, Jessica Goodall, Liljana Cerilles, Sharon Mackey McEachern, Naomi McCurdie, Aleisa Child, Victoria Keesing, Jilli Spencer, Jocelyn Carolyn, Liz Izquierdo, Belinda Nailon, Judy Kean, Marita Port, Greg Hampton, Lisa Lokki, Karen Charlebois, Melissa Lewin, Emma Flatman, Lorraine Boshoff, Carla Jackett, Lynne Anderson, Natalie Totterdell, Tiffany Baxter, Tracey Campbell, Rosemary Dyke, Kim Nolan, Cintia Lemann, City of Ballarat, Daniel Slusarek, Leanne McKenzie, Maggie Andrews, Frances Fitzgibbon, Luisa Faux, Stacey Morrison, Denis Hopking, Julia Bramich, Niamh Cleary, Karren MacClure, Allan Casey, Richard Newton, Emily Konietzko, Michelle Watson, Josephine Powell, Karen Rivers, David Lester, Trudy Gould, Sarinrat Sornkam, Therese Neill, Karmen Harley, Sarah Caddy, Kate Bussey, Brenda Kausche, Rebecca Lavery, Duncan Watt, Jane Orme, Angie Russi, Arcadia Scott, Karen Wells, Ian Hodge, Natasha Chant, Kirsten Formston, Peter Meier and Mel Gras.
TACA Awards
Bling Yui, Gala Grahovac and Lydia Sidarta.
Graduate to Studio Membership Program
Susannah Spittle, Venessa Stella Skye, Keisha Wheeler-McMullen, Anita Matteucci, Ella Rhodes, Sherelyn Montellanos, Cara Asherovitch, Sibylla 'Billie' Robertson, Craig Rowlands, Seamus Mullen, Lara Louise Dziggel, Susie Choi, Amber Bolton and Jeannie Lapping.
TACA Board 2021/2022
Cathy Franzi, ACT; cathyfranzi.com
Mike Hall, NSW; instagram.com/mikefhall
Kate Jones, VIC; katejjones.com.au
Janetta Kerr-Grant, VIC: janettakerrgrant.com.au
Diamando Koutsellis, NSW; diamando.com.au
Debbie Pryor, SA; debbiepryor.org
Secretary: Vicki Grima
Executive Officer: Vicki Grima
TACA's next Annual General Meeting will be held in September/October 2022.
Like to contact TACA BOARD?
Send an email to [email protected]; Subject: EMAIL TO TACA BOARD
The Australian Ceramics Association
PO Box 677 Alexandria NSW 1435
SQ1, 32 Bowden St, Alexandria NSW 2015
AUSTRALIA
T: 1300 720 124; 0419 250 282
E: [email protected]
australianceramics.com