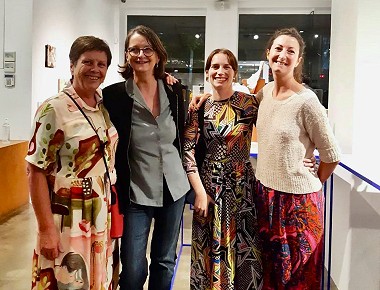 JAC LAUNCH AT THE OPENING OF SIXTY AT ADC
Speech by Vicki Grima
Executive Officer and JAC Editor, 2006–current
I would like to join with others who have acknowledged the Gadigal Land on which we meet tonight and note especially the first nations people who are with us tonight: Alison Milyika Carroll and and others who are here in the audience …
This ADC on Tour project started with a phone call I made around 2 years ago to Lisa Cahill seeking her advice on how touring shows came about, how grants worked, who to apply to for grants etc. Lisa's immediate interest in the idea of an exhibition based around celebrating 60 years of The JAC was heartening and showed recognition of the milestone this achievement is in arts publishing … and here we are today.
So, a huge thank you to Lisa, the ADC's Board and staff – the whole team have done an amazing job and we look forward to working with you over the next 4 years as the exhibition tours the country.
So many of you here who have played a pivotal role over many decades enabling The Australian Ceramics Association to reach this special anniversary.
This unique arts publication is funded by TACA members, Journal subscribers and advertisers. It is for the members. It is about the whole Australian ceramics community and it is contributed to by many.
The JAC has had 7 editors: Wanda Garnsey, Margot Staples, Janet Mansfield, Leonard Smith and those who join us here tonight: Sue Buckle and Trisha Dean and me.
It features contributions by writers and curators – people like Damon Moon, Glenn Barkley and Patsy Hely.
The artists and makers who grace the pages: Kirsten Coelho, Susan Frost, David Ray, Tania Rollond, Alison Milyika Carroll, Vipoo Srivilasa, Yul Scarf, Kenji Uranishi, Jeff Mincham, Gerry Wedd, Honor Freeman.
The Presidents of The Australian Ceramics Association have played their part too. Most recently – Barbara Campbell-Allen, Julie Bartholomew, Patsy Hely, Shannon Garson and Cathy Franzi.
Astrid Wehling has been our graphic designer of 20 years – great that you could join us tonight.
I have also worked for 16 years with an amazing proofreader Suzanne Dean and advertising manager Carol Fraczek, and my staff Montessa Maack, Georgie Avis and Jessie Bancroft.
The community involvement is most important and that includes many of you here tonight – members, subscribers, teachers, students, ceramic suppliers and gallery owners.
The strength of this community and their connections with the publication gives everyone a feeling of ownership and that's a wonderful thing for us to celebrate.
When thinking about what it has meant to publish this print magazine for 60 continuous years, I think about the physicality of it – the sheer weight of those 20,000 pages, the space those 176 issues take up on a shelf, and the smell of ink when the boxes of freshly printed magazines are delivered to the office for distribution.
Print is a counterpoint to fast social media, encouraging slower digestion of carefully gathered information. The way in which we read a magazine is different, slower, and more considered. The information gathered in any one issue is archived in a physical format at that point in time. The JAC brings the Australian ceramics community together in one place, three times every year. As time goes on, our reach is becoming broader, more diverse, deeper.
This very JAC is a record of this time and this place.
I am privileged to be in my 17th year as Editor and it has enriched my life in ways I could never have imagined. I hope The Journal of Australian Ceramics continues to enrich yours.