AUSTRALIAN CERAMICS TOOLS FOR PRACTICE, SERIES 2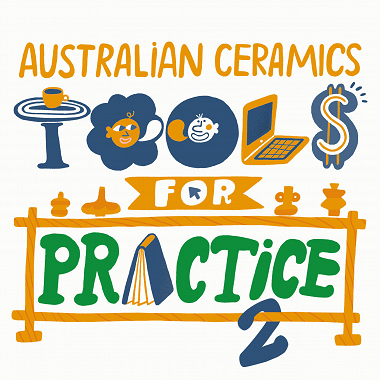 From 11 October to 15 November 2022, The Australian Ceramics Association (TACA) is excited to host Australian Ceramics Tools for Practice, Series 2!
Series 1, held in February 2022, was extremely successful and we are thrilled to have six new online panel discussions on topics related to establishing or enriching a professional ceramics practice starting next month.
The series is free to attend and aims to support emerging practitioners in our community by sharing the learnt experience and knowledge of a large variety of active practitioners. The discussions will be conversational, informative, insightful, and inspiring.
We invite emerging practitioners to attend the series and be a part of the conversations, with an opportunity to gain insight into various areas of studio practice as well as having the opportunity to ask questions.
The weekly sessions will run on Tuesday evenings from 6–7.30pm AEST, starting 11 October 2022.
11 October – Session 1: GETTING STARTED
Making connections, networking, entering competitions, sources of income, where and how will you sell.
With Amy Kennedy (M), Alby Holder (Small Fires), Chrystie Longworth (Cobalt & Kin) & Kenny Pittock
Register in advance for this session HERE.
18 October – Session 2: STUDIO SUSTAINABILITY
Environmental concerns and best practice.
With Jane Sawyer (Slow Clay) (M), Cinda Manins, Claire Ellis & Kate Hill
Register in advance for this session HERE.
25 October – Session 3: GALLERIES, PRICING & SELLING
Pricing your work, what it means and how it works.
Differences between online selling v. markets v. exhibition work.
With Kylie Johnson (paper boat press), Brett Stone (Utopia), Chela Edmunds (Takeawei) & Hayden Youlley
Register in advance for this session HERE.
1 November – Session 4: PHOTOGRAPHY & SOCIAL MEDIA
The importance of the image you put forward.
With Vicki Grima (M), Kylie Gusset (M), Christina Lowry, Nicolette Johnson & Peter Whyte
Register in advance for this session HERE.
8 November – Session 5: KEEPING YOUR PRACTICE GOING
The basics of just turning up – how and why to get your butt in the studio.
With Natalie Velthuyzen (M), Gerry Wedd, Honor Freeman & Hayden Youlley
Register in advance for this session HERE.
15 November – Session 6: WRITING ABOUT YOUR WORK: WHY AND HOW
Developing ideas, language and communication.
With Robyn Phelan (M), Dee Taylor-Graham (Waldie's), Kenny Pittock & Amy Kennedy
Register in advance for this session HERE.
The Zoom-based 90-minute sessions will be made up of around 60 minutes of panellists in conversation, followed by 30 minutes of Q&A from the audience.
As mentioned above, we would love emerging practitioners to be a part of these conversations.
Although the live sessions will be offered free to the public, spaces are limited to 100 attendees per session, so we advise early registration to avoid missing out.
HAVE A QUESTION?
Please email: [email protected]

Vicki Grima & Montessa Maack
The Australian Ceramics Association
PO Box 677, Alexandria NSW 1435
AUSTRALIA
T: 1300 720 124, 0419 250 282
E: [email protected]
australianceramics.com
australianceramicscommunity.com
australianceramicstriennale.com.au