JAC 613 LAUNCH AT STUDIO ENTI, SYDNEY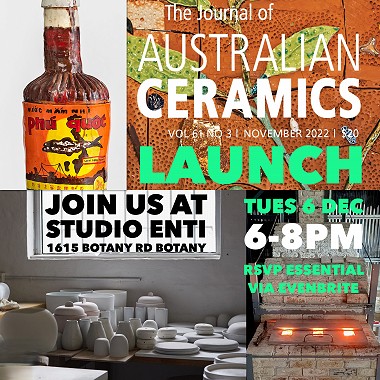 We're heading to Studio Enti to launch the November issue of The Journal of Australian Ceramics (JAC) ... and we hope you can join us!
Tuesday 6 December, 6-8pm
Studio Enti, 1615 Botany Rd Botany, NSW 2019
REGISTER TO ATTEND (FREE) HERE.
It's an evening for us to celebrate the new issue of The JAC with special guests Naomi Taplin(Studio Enti), Kimwoochang and Ursula Burgoyne. Join us for a chat and a tour of Studio Enti ... and as much good stuff as we can pack in to 2 short hours.
Hosted by STUDIO ENTI and THE AUSTRALIAN CERAMICS ASSOCIATION.
The JAC launches are an initiative of The Australian Ceramics Association, a way of connecting with our members, readers and followers … in fact, anyone interested in ceramics.
The JAC 613 Launch is a free event, however RSVP via Eventbrite is essential.
6pm: Gather & meet: come along and grab a drink whilst you meet the community
6.30pm: Hear from some of the artists who feature in the November JAC – Naomi Taplin (Studio Enti), Mechelle Bounpraseuth, Kimwoochang and Ursula Burgoyne.
6.45–7.15pm: tour of Studio Enti's production studio with time for Naomi to answer questions
7.15pm: stay around for a chat and a drink with fellow JAC readers!
PARKING: Street parking is available. PUBLIC TRANSPORT: The 309 bus will take you there from Redfern.