Journal of Australian Ceramics - online LAUNCH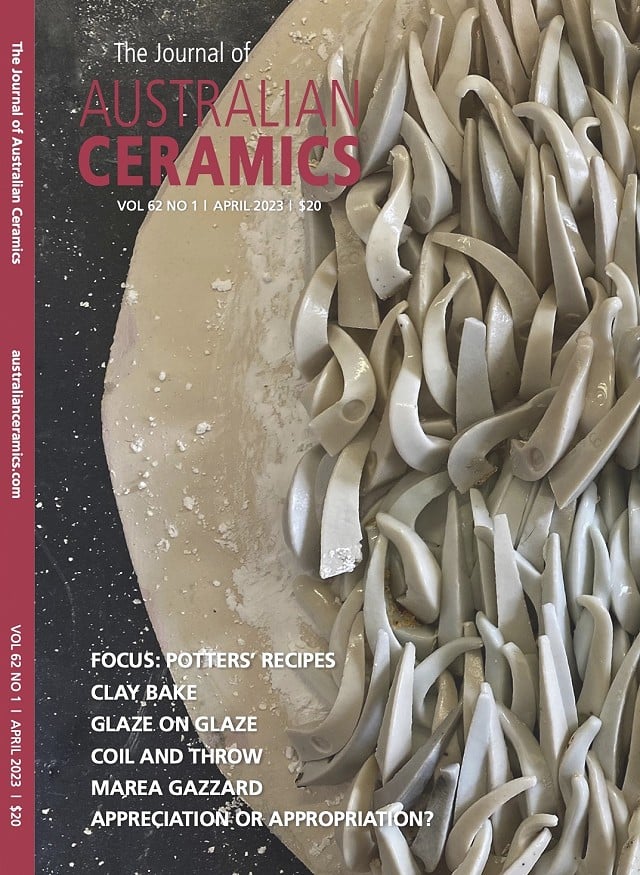 Join us to celebrate our new issue!
The focus of JAC 62/1 is POTTERS' RECIPES and we have special guests Hannah Kothe, Jason Lim and Angie Talleyrand joining us for a discussion to launch this exciting new issue.
Jason Lim has written about his process and intention in clay performance through the work When The Inside Is Outside And Under Is Above at Western Australian Museum Boola Bardip. Angie Talleyrand shares a deep, thoughtful and experiential take on making tableware. Hannah Kothe was one of three 2023 recipients of the JAC Writers' Research Program (WRP) and has researched Marea Gazzard in the Chau Chak Wing Museum collection.

WEDNESDAY 19 APRIL, 7PM AEST ON ZOOM
Hosted by the JAC Co-Editors Montessa Maack and Bridie Moran, and joined by TACA CEO Debbie Pryor, this event aims to bring together our ceramic community to chat and celebrate. Learn more from the contributors, with opportunity to ask Jason and Angie about their practice, and hear about Hannah's experience ahead of a new call-out for the Writers' Research Program in late 2023.
The launch will be roughly 1 hour of discussion between the hosts and the guests, including some open discussion at the end in which anyone may ask a question.
After registering, you will receive a confirmation email with all the information you need to join us online.