Tools for Practice - series 3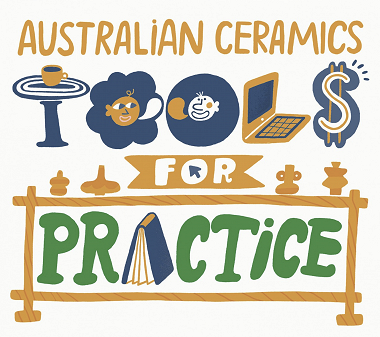 We are excited to offer the online speaker series Tools for Practice - series 3!
Hear from ten ceramicists from around the country discuss their experiences working with clay and building their practice. Tools for Practice is a series of online panel discussions in which Australian ceramicists discuss topics related to establishing or enriching a professional ceramics practice.
The series is free to attend and aims to support all practitioners in our community by sharing the learnt experience and knowledge of potters, ceramicists and artists working with clay around the country. The discussions will be conversational, informative, insightful, and inspiring.
The 90-minute sessions will be approx. 60 minutes of panellists in conversation, followed by 30 minutes of Q&A from the audience.
Members can access recordings of these sessions, and previous series as part of an Australian Ceramics Membership (Full Standard, Full Standard Insurance, Student or Organisation).

Tools For Practice Series 3
Tuesday 11 July | CERAMICS AND WRITING
Tuesday 18 July | WORKING ON AND WITH COUNTRY
Tuesday 25 July | CLAY AND MENTAL HEALTH THERAPY
Tuesday 1 August | KNOWING YOUR WORTH AND ASKING FOR IT
Tuesday 11 July, 7pm AEST
CERAMICS AND WRITING
Two writer / ceramicist duos discuss their experiences collaborating in their respective practices. Together they discuss the process of storytelling, finding both the artist and writer voice and a respect for both creative practices.
Marie Littlewood (Kaurna Yerta / SA) with Lesa Farrant (Ngankiparinga / SA), Lotte Schwerdtfeger (Peramangk / SA) with Judy Annear (Dja Dja Wurrung Country / VIC).
Read Marie's catalogue essay for Lesa's Scantlings exhibition here.
Register HERE.
Tuesday 18 July, 7pm AEST
WORKING ON AND WITH COUNTRY
An ongoing conversation about how ceramicists work with and on Country. Three makers talk about how they use materials with mindfulness and intent, employ processes and practices with the environment in mind and have consulted with Elders when working on Country.
Dominic Guerrera (Kaurna Yerta / SA), Kate Hill (Naarm / VIC), Alfred Lowe (Kaurna Yerta / SA).
Register HERE.
Tuesday 25 July, 7pm AEST
CLAY AND MENTAL HEALTH THERAPY
Artists working in ceramics, reveal the impact of their practice and the practice of arts therapy on themselves and others. Reflecting on the personal and professional power of working with clay.
Sam Gold (Kaurna Yerta / SA), Samuel Leighton-Dore (Yugambeh Country / QLD), Sean Miller (Naarm / VIC)
Register HERE.
Please note that this session may discuss personal experiences and references that may be sensitive for some audience members.
Tuesday 1 August, 7pm AEST
KNOWING YOUR WORTH, AND ASKING FOR IT
Three ceramic artists with distinct practices in different stages of their careers discuss how to develop your voice when entering into collaborations, negotiating artist fees, and knowing what businesses you want your work to be associated with.
Shannon Garson (Jinibara Country / QLD), Ted Secombe (Wurundjeri Country/ VIC), Leia Sherblom (Bundjalung / NSW )
Register HERE.


Keeping your camera on during the session allows us to connect with one another, for those that are comfortable to do so. These sessions are recorded, it is intended that the main speaker is isolated on the screen, but at times the screen showing a grid of participants may be visible.