AUSTRALIAN CERAMICS OPEN STUDIOS 2023, NOV 11&12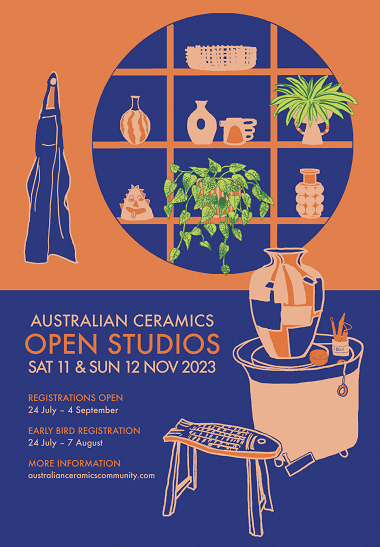 Australian Ceramics Open Studios 2023 will be held Saturday 11 & Sunday 12 November
Australian Ceramics Open Studios (ACOS) is an annual, nationwide, weekend event that celebrates clay, community and creativity.
Hosted by The Australian Ceramics Association, ceramics studios around Australia open their doors to offer a peek into their making processes and sharing their work. Some studios host demonstrations, some pop on the kettle and all offer the chance to view works and/or purchase a handmade piece.
We would love you to join us and open your studio for our 12th national event.
In the spirit of 'the more the merrier' both members and non-members of The Australian Ceramics Association can register for Open Studios in 2023. We hope to see an abundance of open studios across the nation, enabling more pockets of openings in regional and non-major city areas, creating a ground swell of activity and new audiences.

REGISTRATION PRICES & DATES
Early Bird Registration (Full Membership only)
24 July - 7 August
Individual $20
Small Incorporated Group* $60
Big Incorporated Group** $110

Full Membership Registration
8 August - 4 September
Individual $30
Small Incorporated Group* $70
Big Incorporated Group** $120

Non-Members Registration (no Early-Bird)
8 August - 4 September
Individual $50
Small Incorporated Group* $110
Big Incorporated Group** $160
Small Incorporated Group* up to 10 ceramicists with the Incorporated body
Big Incorporated Group** over 10 ceramicists with the Incorporated body

TO PARTICIPATE IN OPEN STUDIOS 2023, YOU WILL NEED TO:
• have liability insurance cover that covers you to open your studio, providing a Certificate of Currency upon registration (TACA offers this as an optional extra on Membership; find out more HERE)
• have a recent photo of you in your studio (square or landscape is best)
• prepare text about what visitors to your studio can expect when they visit you
• be ready to pay the ACOS Participation Fee on submission of your EOI form
OPEN STUDIOS EARLY BIRD REGISTRATION FOR THOSE HOLDING FULL MEMBERSHIP WILL FROM MONDAY 24 JULY
Please contact Australian Ceramics with any queries on 1300 720 124 or [email protected]