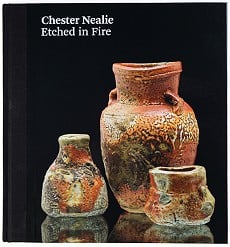 Chester Nealie – Etched in Fire
Chester Nealie – Etched in Fire is a survey of the work of New Zealand-born, Australian-based potter, Chester Nealie, who has been making pots for six decades (1964–2014) and is an international authority on the Japanese style of woodfiring, anagama.
This monograph documents his prolific life and work and records an important part of New Zealand ceramics history, a valuable resource for artists, collectors and historians alike. Edited by Dr Damian Skinner, this book brings together a lifetime of work in photographs and important essays by key artists, curators and writers including Denis O'Connor, Peter Lange, Owen Rye, Grace Cochrane, Lucy Hammonds, Justine Olsen, Morag Fraser, Gillian McCracken, Andrew Grigg and Jan Irvine-Nealie; photography by Ian Hobbs, Geoff Ambler, Yuki Sato and others.
Chapters are organised into four sections that follow the lifecycle of Nealie's pots: making, firing, exhibiting and owning. Pots and events from different periods interact with each other, dynamically illustrating the richness of Nealie's practice, as subjects, materials, techniques and processes emerge and evolve over 50 years, while historical images and newly commissioned photographs of his ceramics document his artistic achievement.
Damian Skinner frames his introduction around a recorded interview of Chester describing his work held in the Auckland War Memorial Museum Collection.
Publisher: Ron Sang Publications, 2016
ISBN: 9780473342753
320 pages, hardcover, 280 x 300mm
327 images (11 double-page, 120 full-page colour)
2.8kg
---
STATUS:
Stock available
Requires shipping
Weight: 500000gm