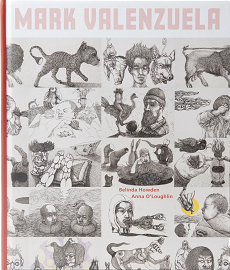 Mark Valenzuela by Belinda Howden and Anna O'Loughlin
Mark Valenzuela is an artist of two worlds. Born and raised in the Philippines, Valenzuela moved to Adelaide, South Australia, as an adult in his thirties. His ceramics and installation practice has since drawn on this duality, oscillating geographically, artistically and politically between the two countries.
As a maker of many-pieced iterative installations, Valenzuela has spent the past two decades exploring ideas of occupation, annexation and space-making. His works address themes of conflict, dominance, resistance and rebellion, and frequently combine the personal and the political. This monograph is the first major publication dedicated to Valenzuela's career. Informed by nearly twenty hours of studio interviews and the lived experience and up-close observation of Valenzuela's practice, the essays contained within take inspiration from Valenzuela's approach to art-making. They carve a shape-shifting path through his twenty-year career thus far, revealing a keen technician, a radically anti-object approach to ceramics and, ultimately, an artist who willfully resists categorisation.
This book is a South Australian Living Artists festival publication.
ISBN: 9781743059555 Author: Belinda Howden, Anna O'Loughlin Format: Hardcover Pages: 136 Published: 2022 Publisher: Wakefield Press Country of Publication: AU Dimensions: 28.0 x 23.5cm
Please note a 1.75% merchant fee for payment by credit card will be charged at checkout.
---