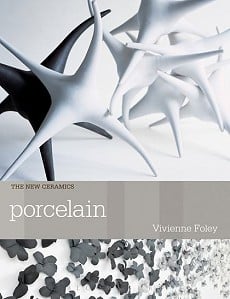 Porcelain by Vivienne Foley
In this inspiring practical guide, porcelain artist Vivienne Foley introduces ceramicists to the material she has been working with for more than forty years.
The book takes a comprehensive look at all aspects of porcelain, and covers everything from its composition and workability, to decorating and glazing. Methods of throwing and building are thoroughly covered, with a focus on techniques and faults specific to porcelain. Drying and firing is also discussed, and there is a useful troubleshooting section on all the most likely problems and faults along with suggested remedies.
Beginning with the fascinating history of making in porcelain, from the Imperial kilns of China to the Meissen factory of Germany and beyond, this book offers an insight into the way porcelain has been used in the past and how it has been adapted and developed for contemporary work, by current artists who are constantly looking to push the boundaries of possibility.
Illustrated throughout with helpful how-to images, as well as the beautiful works of current artists, Porcelain is the essential handbook for any ceramic student or artist seeking to understand and work with this extraordinary material.


Publisher: Bloomsbury, 2014
ISBN: 9781912217700
144 pages
Paperback
246 x 189mm
Illustrations: 165 colour
---
STATUS:
Stock available
Requires shipping
Weight: 455gm