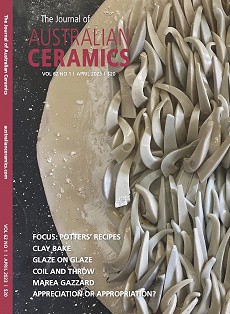 The Journal of Australian Ceramics, Vol 62 No 1, April 2023
FOCUS: POTTERS' RECIPES
CLAY BAKE
GLAZE ON GLAZE
COIL AND THROW
MAREA GAZZARD
APPRECIATION OR APPROPRIATION?
Co-Editors Montessa Maack and Bridie Moran say: For this issue's theme of POTTERS' RECIPES we have considered recipes in various ways – in glaze formulation, in the contents which fill our handmade vessels, as a bringing of things together, be they people, ingredients, objects, or ideas. Join us in pouring over our materials, both old and new, with Ilona Topolcsanyi, Claire Ellis, Rob Linigen and others. Or dive into the making of meaning with Angie Talleyrand and Viv Cutbush, or the building of community with Yarrenyty Arltere artists and Kevin Boyd. We hope you enjoy the huge variety of recipe ideas in this issue as much as we have.
Featured in JAC 621: Angie Talleyrand, Minna Graham, Ruby Yu-Lu Yeh, Dan Elborne, Sandy Pottinger, Kevin Boyd, Chun Glaze, Steve Williams, But First We Eat: Jia Jia Chen and Claire Lehmann, Jason Lim, Summerholm Studio: Kirsti Falconer, Rora and Indiah Elwell, Peter Thompson, Hannah Kothe, Marea Gazzard, Chau Chak Wing Museum, SAM Indigenous Ceramic Award, Aleisa Miksad, Claire Ellis, Rob Linigen, Ilona Topolcsanyi, Bernard Kerr, Ian Clare, Jean McMaster, Sandra Bowkett, Georgia Stevenson, Geoff Thomas, Emina Adriaans, Marianna Ebersoll, Yarrenyty Arltere artists, Kalyanii Holden, Alex Linden, Viv Cutbush, Dean Smith, Cat Conner and Vale Les Blakebrough
---
STATUS:
Stock available
Requires shipping
Weight: 450gm