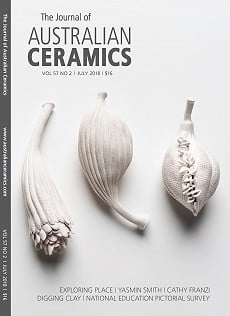 The Journal of Australian Ceramics Vol 57 No 2, July 2018
**Print copy is SOLD OUT! You can still buy DIGITAL JAC here.
FOCUS: EXPLORING PLACE
YASMIN SMITH
CATHY FRANZI
DIGGING CLAY
NATIONAL EDUCATION PICTORIAL SURVEY**
Our July issue of The Journal of Australian Ceramics includes articles on ceramicists who explore place in their work – Yasmin Smith, Janetta Kerr-Grant and Cathy Franzi (amongst others) – along with a review of Clay Gulgong, many stories from those who dig their own clay and our National Education Pictorial Survey. Damon Moon writes about Kelly Austin's installations, we look at the essentials for a ceramics studio and, as always, we will squeeze in as much as we can about the diversity of Australian ceramics. Bursting with inspiring stories, stunning imagery and technical information, the July JAC has your winter reading sorted!
Journal cover image: Sarah Rayner, A short story about a long tale, 2018, handcarved porcelain, terra sigillata, 1000ºC, collection dimensions h.6cm, w.35cm, d.12cm; photo: Greg Piper
Published 17 July 2018
Editor: Vicki Grima Editorial Assistant: Bridie Moran Graphic Design: Astrid Wehling


---
STATUS:
Stock available
Requires shipping
Weight: 450gm