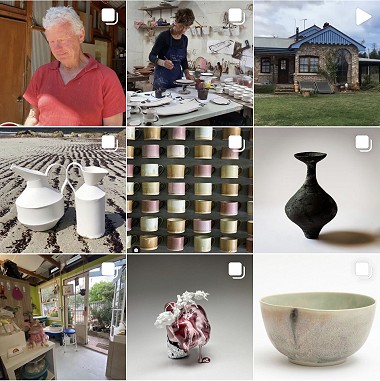 TACA BOARD NEWS DECEMBER 2021
by Kate Jones, President
TACA Board met on 29 November on the Zoom platform.
Cathy Franzi stepped down as President at the AGM which was held on 7 October 2021. Her steady, generous and considered leadership will be missed by all of us and I am grateful that she has agreed to remain on the board.
We welcome Debbie Pryor who has joined the board to fill a casual vacancy. An Adelaide-based artist, curator and writer, Debbie has worked across Adelaide, Sydney and Melbourne since 2000, running galleries and programs at key craft and design institutions such as JamFactory, Object (now Australian Design Centre), Powerhouse Museum, Firstdraft and Craft. In addition to writing and curating, she has recently returned to making ceramics.

Five new Life Members were accepted at the AGM – Janet DeBoos, Pippin Drysdale, Neville French, Patsy Hely and Owen Rye. We're grateful to them for their contributions to Australian ceramics, and congratulate them all. More details HERE.

Progress continues on the upcoming touring exhibition SIXTY, developed in partnership with the Australian Design Centre (ADC) to celebrate the 60th anniversary of our print publication, The Journal of Australian Ceramics. Lisa Cahill, CEO and artistic director of the ADC, was our guest speaker at the AGM, sharing news about this exciting project. Watch or listen to the AGM HERE.

Damon Moon, Anna Grigson and Vicki Grima have contributed essays to the book which will accompany the SIXTY project. The list of artists involved and the curatorial statement can be found HERE.

The latest Journal Launch was enjoyed via Zoom yesterday (7 December) with Eva Czernis-Ryl from the Powerhouse, Sydney, speaking alongside Vicki Grima, Bridie Moran and a number of contributors to the issue. Watch or listen to the Journal Launch HERE.

Speaking of the JAC, we are still working towards having a fully searchable archive available to members and subscribers but in the meantime you can access around 145 of our past issues HERE.

Australian Ceramic Open Studios went ahead on 13 & 14 November with 180 studios participating. We were fortunate in timing with relaxed Covid restrictions, if not with the weather in some places. The majority of participants completed our comprehensive survey after the event and the board spent time taking in the results. The event continues to grow and evolve, getting better year-on-year.

Series 3 of Australian Ceramics Online Masterclasses will be released early next year and in the meantime Series 1 & 2 are still being taken up at a healthy rate.

Also coming up in February/March 2022 is a series of panel discussions, Australian Ceramics Tools for Practice. The 6 weekly sessions will be held on Zoom every Tuesday night and will be free and accessible to everyone. We are excited about this initial offering and our Mentorship Working Group continues to explore possibilities for sharing knowledge amongst our members.

TACA's Director of Finance Mike Hall delivered his report along with a recommendation for TACA's policy on the holding of appropriate reserves funds. This figure was arrived at in consultation with Halo Tax & Accounting. The suggested reserve policy was adopted by the Board giving the organisation stability and security as well as creating a clear opportunity to develop more services for members. The Membership Platform Working Group continues to work through options for automating and improving administrative tasks looking at various software as service offerings.
It has been quite a while since our geographically scattered board sat together in a physical space, but we have found the 3-hour Zoom meetings to be time and cost efficient and environmentally friendly.
Our next board meeting will be held on Zoom on 24 January 2022 at 2pm.

We welcome new TACA members who joined between 15 October to 7 December 2021:
Jacinta Morris, Sharyn Frantz, Kelsie Kahl, Jude Maslin, Rebecca Tester, Diana Bafi, Hannah Berzins, Natalie Cardinal, Jenny Divers, Rebecca Dowling, Shima Ibuki, Robert Notara, Rika Rouw, Jackie Divitaris, Christie Little, Brenda Cole, Bien Selvano, Nina Williams, Veronica Hake, Sophie Moorhouse Morris, Camille Reid, Miro Mackiewicz, Oak Hill Gallery Potters Group, Lorraine Holden, Dr Kathi Holt, Ali Blackwell, James McAlpin, Jess Dybing, Sharon Carey, Helen Matthews, Melinda Saunders, Parker Dupain, Leesha Levey, Shirley Ferguson, Geoff McKinnon, Lola Molina, Kristi Pupo, John Ungar, Sue Brooks, Debbie Pryor, Yang Qiu, Ruby Manion, Emma Alsweiler and Lu Myhill.
TACA Board 2021/2022
Cathy Franzi, ACT; cathyfranzi.com
Mike Hall, NSW; instagram.com/mikefhall
Kate Jones, VIC; soca.com.au/about/
Janetta Kerr Grant, VIC: janettakerrgrant.com.au
Diamando Koutsellis, NSW; diamando.com.au
Debbie Pryor, SA; debbiepryor.org
Secretary: Vicki Grima
Executive Officer: Vicki Grima
TACA's next Annual General Meeting will be held in September/October 2022.
Like to contact TACA BOARD?
Send an email to [email protected]; Subject: EMAIL TO TACA BOARD
The Australian Ceramics Association
PO Box 677 Alexandria NSW 1435
SQ1, 32 Bowden St, Alexandria NSW 2015
AUSTRALIA
T: 1300 720 124; 0419 250 282
E: [email protected]
australianceramics.com