Open Studios FAQ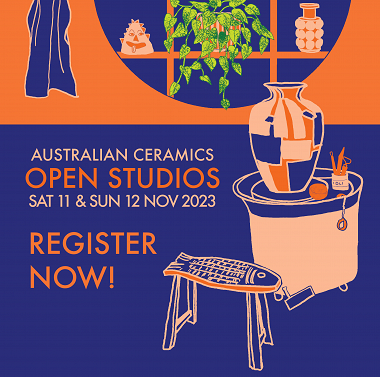 AUSTRALIAN CERAMICS OPEN STUDIOS 2023
11&12 NOVEMBER
FREQUENTLY ASKED QUESTIONS

Here are some of our most asked questions about holding an Open Studio event. If you have a question that's not on here please be in touch and we're happy to talk through your question with you and add any relevant information onto this list.
Registrations close Monday September 4 - register HERE

I HAVEN'T REGISTERED, WHY SHOULD I JOIN ACOS?
Opening your studio is a great way to:
Sell work and build an audience, especially before the Christmas rush
Meet your community
Connect with other potters and/or businesses in the area
Join a national network of ceramicists

HOW DO I CHOOSE THE BEST IMAGE FOR MY LISTING?
Top tip for the listing image: Please be in the photo! This way visitors can recognise who they are visiting when they arrive at your studio. If possible, position yourself to the right of the frame as the text for your listing will be situated on the left. Once you register we will send a link for you to provide more images and/or premissions for us to use you social media images.
I'M NOT AN AUSTRALIAN CERAMICS ASSOCIATION MEMBER, CAN I REGISTER FOR TACA?
YES! This is the first year we're offering registrations to non-members. We're keen to build a strong network of Open Studios across the nation, in cities and regional locations, showcasing all types of makers working with clay. You don't need to be a member, but you will need Public Liabiltiy insurance. TACA membership also makes you eligible to submit work to the Members exhibition, recieve a weekly newsletter of ceramic events, exhibitions, opportunities and member exclusive profiles and discounts. You can learn more about our membership HERE

A FRIEND IS HELPING ME RUN MY OPEN STUDIO ON NOVEMBER 11 & 12 DO THEY NEED THEIR OWN INSURANCE?
If you have a guest selling ceramics on your behalf or helping you in your studio space, they will be covered by your TACA liability insurance policy. If your liability insurance is with a different provider, please check with them directly.

MY STUDIO IS A MODEST WORKING SPACE, I'M NOT SURE IF IT'S PROFESSIONAL OR POLISHED ENOUGH FOR OPEN STUDIOS.
The place where you make your ceramics is infinitely more interesting to others than you may think! You might make in your carport, front porch, spare room, kitchen bench – the spaces we make in are as unique as our practice. There is no prescribed studio set up necessary for Open Studios, we just ask that the space is safe for visitors and any tripping hazards etc are considered before inviting in guests.

I DON'T HAVE LIABILITY INSURANCE, CAN I BUY TACA'S JUST FOR THE WEEKEND?
Unfortunately our insurer (AON) does not offer short term insurance.

I AM NOT SURE IF WE CAN REGISTER AS A GROUP OR NOT. WHAT ARE THE PARAMETERS?
If you are part of an incorporated group please register as a group. If you are part of a business that is not incorporated, each individual in that group will need to register and provide their insurance details.

I ALREADY HAVE LIABILITY INSURANCE WITH ANOTHER ORGANISATION, DOES THAT COUNT?
Yes, please provide your Certificate of Currency to us after registration. If we don't receive it before the event you will not be allowed to participate in Australian Ceramics Open Studios.

ANOTHER CERAMICIST HAS ASKED ME TO BE A GUEST IN THEIR STUDIO SPACE WHERE I WILL PRESENT AND SELL MY OWN WORK, AM I INCLUDED IN THEIR INSURANCE POLICY?
Wherever you are selling your own work you will need your own insurance. If you are a guest in someone else's studio for the purpose of the Open Studios weekend and selling your own ceramics you are classified as a third party and would need your own insurance.

I AM CURRENTLY A MEMBER, BUT IT LAPSES BEFORE NOVEMBER 11 – CAN I STILL REGISTER AS A MEMBER?
Yes, you will be sent a renewal link when your membership is approaching expiry, please ensure your membership is current at the time of the event. Registrations will be checked before the event and those without insurance coverage will be removed from the event.

I'M NOT USED TO HAVING PEOPLE IN MY STUDIO, ARE THERE TIPS ON HOW TO COMFORTABLY OPEN MY STUDIO UP TO VISITORS?
People are entering your space because they're interested in your practice, don't be afraid to talk about your method of making, materials you use, why you make.
If you prefer the focus to not be on you, ask people some questions about them! Where else are they visiting that day, have they made with clay before, what type of work are they interested in etc?
It might be helpful to arrange work that you are comfortable talking about, or really proud of in an easily viewable spot as a focus point.

DO I NEED TO OFFER ACTIVITIES TO VISITORS?
Activities can be a good way to build a relationship with visitors, keep children entertained and away from finished works, or teaching might be your happy place and make you more comfortable on the day. It's definitely not a necessity and depends on what your studio set up can facilitate and what you're most comfortable to do on the day.

BEST METHOD OF PAYMENT TO OFFER TO MY CUSTOMERS ON THE DAY?
If you don't have a card reader (Square or otherwise) you can manually enter credit card details into your Paypal or Stripe account (on your phone or secured computer). If you're cash only best to note that in all your social media posts, and even your registration form.

WHAT IF I GET SICK BEFORE MY EVENT? HOW DO I LET PEOPLE KNOW I'M NO LONGER OPENING MY DOORS, AM I ENTITLED TO A REFUND?
Wear a mask if you don't feel 100% and if you're immune compromised you might like to ask others to mask up before they enter your space (we suggest mentioning this in your listing and online – a sign outside your studio might be a good idea too)
ACOS refunds are available during the registration period until September 4.

FURTHER READING: ARTSHUB ARTICLE
https://www.artshub.com.au/news/career-advice/tips-on-maximising-your-open-studio-event-2589837/
For more information on Open Studios costs and dates visit HERE