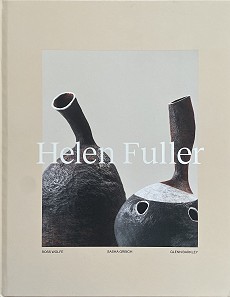 Helen Fuller by Ross Wolfe, Sasha Grbich, Glenn Barkley and Helen Fuller
Tarntanya/Adelaide artist Helen Fuller is curious, inventive and willing to follow her compulsion to make, whatever the material. Over a long and extensive career, she has established a multidisciplinary practice encompassing a rich variety of painting, sculpture, installation and, in recent years, ceramics.
Driven by intuition and materiality, she approaches ceramics in a manner she likens to painting, concerned with the characteristics of form rather than the function of the vessel. Unfailingly experimental, she describes her instinct as 'off-road'.
Her art is influenced by her travels in Australia, Europe, Asia, Scandinavia, and the United Kingdom, but is also intensely personal to her own family history and life. In Helen Fuller, the first major publication devoted entirely to Fuller's work, the authors explore aspects of her fifty years of practice and a life of art.
Publisher: Wakefield Press
ISBN: 9781923042018
Pages: 136
Hardcover
---
STATUS:
Stock available
Requires shipping
Weight: 800gm