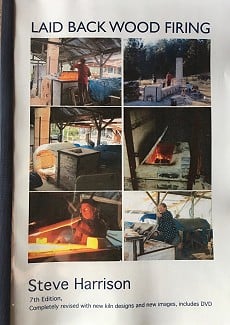 Laid Back Wood Firing by Steve Harrison
This book was first published in 1977 in an edition of 500 copies in a green cover and reprinted soon after in 1978 in an edition of 2000 in a blue cover. This edition has been updated, revised and considerably enlarged, in fact almost triple the original publication. Although it is my intention that it should still remain a small kiln-side handbook as a guide for the potter who has not fired a down draught fire box (Bourry) kiln before, or has little experience of it.
This little book (as it has now become) also attempts to shed some light on the history and development of the up side down fire box, although only briefly, as its main function is as a guide on how to understand the firebox and offer possible explanations as to what may happen to you during a firing and what you might do about it to keep control of the process.
6th edition; revised and enlarged.
107 pages, 15 illustrations, 12 kiln plans and a DVD with 120 colour images and 30 minutes of video illustrating the text.
---
STATUS:
Stock available
Requires shipping
Weight: 340gm