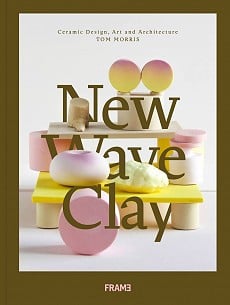 New Wave Clay: Ceramic Design, Art and Architecture by Tom Morris
New Wave Clay unpicks the zeitgeist and aesthetic of an exciting discipline with intelligence, insight and indulgence.
Against the backdrop of the digital age and shiny screens, a whole new generation of craftspeople, designers and artists are realizing the pleasure of working with clay and bringing a fresh perspective to the material. Today, there is a lively crossover between craft, design, sculpture and technology that is rethinking ceramics: what you can make with it, what it looks like and who makes it.
New Wave Clay is a global survey of 55 imaginative ceramicists that are leading this craft revival. They include classically trained potters who create design-led pieces, product designers who use clay as a means of creative expression, as well as fine artists, architects, decorators, illustrators, sculptors and graphic designers. Their collective output goes far beyond pots into ceramic furniture, sculpture, murals, wall reliefs, small-scale architecture and 3D printing.
The book is divided into four thematic sections and features special contributions from Edmund de Waal, Hella Jongerius, Grayson Perry, Martin Brudnizki and Sarah Griffin discussing craft, industry, ornament, decorating and collecting.
New Wave Clay is an image-led, dynamic study of the exciting new generation jumpstarting this age-old art.
Publisher: Frame, 2018
ISBN: 9789492311245
296 pages
Hardback
200 x 265mm
Illustrations: 400 colour
---
STATUS:
Stock available
Requires shipping
Weight: 1400gm