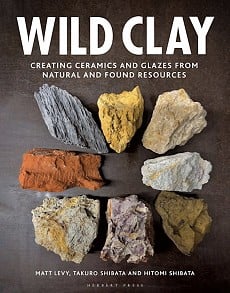 Wild Clay by Matt Levy, Takuro Shibata and Hitomi Shibata
Note from TACA:
The notion of 'wild clay' has some attendant concerns, including but not limited to First Nations considerations for use of Country in artistic and/or commercial practice. We recommend situating this book and content within a wider conversation.
Creating Ceramics and Glazes from Natural and Found Resources
This guide contributes to the understanding of using the local landscape and its unique properties.
Testing and trial and error are key to finding a material's best use, so the authors' tips, drawn from long experience in the US and Japan (but which can be applied to clays anywhere) provide valuable insight. A clay might be best suited to sculpture and tile bodies, throwing clay bodies, handbuilding and slab bodies, or simply be applied as a glaze or slip. The specific properties of found materials can create a diverse range of effects and surfaces, or, even when not fired, can be adapted for use as colorful pastels or pigments.
Beautiful illustrations and helpful technical descriptions explain the formation of various clays; how to locate, collect and assess them; how to test their properties of shrinkage, water absorption, texture and plasticity; the best ways to test-fire them; and how to adapt a clay's characteristics by blending appropriate materials.
Table of Contents
Foreword: Wild Clay
Introduction: Why Wild Clay?
A Personal Journey Through Wild Clay
Soil Ecology and Geology
Finding Clay
Processing and Testing Wild Clay
Making Clay Bodies
Glazes, Slips, and Alternative Practices
Artist Spotlights Bibliography Glossary of Terms Index
Publisher: Bloomsbury Publishing
Imprint: Herbert Press, October 2022
ISBN 9781789940930
176 pages
Hardback
224 x 282mm
---
STATUS:
Stock available
Requires shipping
Weight: 980gm