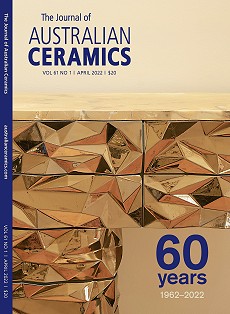 The Journal of Australian Ceramics, Vol 61 No 1, April 2022
CELEBRATING 60 YEARS 1962–2022
FOCUS: FUNCTION & ART
THE VESSEL
SANDY LOCKWOOD
TAKING A DESIGN APPROACH
ASIA PACIFIC TRIENNIAL
Editor Vicki Grima says: What a milestone this is! This issue marks 60 years of The Journal of Australian Ceramics/Pottery in Australia. Seven editors, together with their teams, have gathered, deliberated, presented and shared around 20,000 pages in 176 issues. It is the whole of this that we now celebrate, with each story, article, glaze recipe or image being just one of many thousands. When discussing the words 'function' and 'art' for this issue of JAC, we discussed their limitations in defining the ceramics we make. Would we be better to use words such as 'beauty', 'production' and/or 'objects'? On these pages we chose to consider the crossover between art and design with Penny Craswell's article on production ceramics in architectural settings, then jump forward to hear from 15 makers with their thoughts on the vessel – that object that defines a space within, a space which may be functional or symbolic, useful or observed, enclosed or expressive.
As always, we squeeze in as much as we can about the diversity of Australian ceramics.
Featured in JAC 611: Jimmy Allan, Edna Ambrym, Enrique Tochez Anderson, Jack Anselmi, Apenisa Bainivalu, Glenn Barkley, Lyn Bates, Travis Bell, Abigail Bernal, Olive Bishop, Les Blakebrough, Amanda Bromfield, Sue Buckle, Penny Byrne, Barbara Campbell-Allen, Alison Tjulapi Carroll, Barbara Cauvin, Sarit Cohen, Shane Connery, Stanley Connolly, Peter Cooley, Penny Craswell, Trisha Dean, John Dermer, Margaret Dodd, Helen Earl, Suzanne Forsyth, Simone Fraser, Claire Freer, Neville French, Marea Gazzard, Joyce Mary Arasepa Gole, Sophia Golovanevskaya, Antony Gross, Joan Grounds, Roz Hall, Cassie Hansen, Cynthia Hardie, Mark Heidenreich, Patsy Hely, Adeline Higgins, Bronwen Holding, Robert Hughan, Harold Hughan, Judith Pungarta Inkamala, Lorraine Jenyns, Kate Jones, Michael Kitson, Laweni Tekina Laiseane, Felicity Law, Richard Lewer , Sandy Lockwood, Alfred Lowe, Anna Maas, Holly Macdonald, Cinda Manins, Janet Mansfield, Paul Memmott, Ceara Metlikovec, Kimiyo Mishima, Damon Moon, Pru Morrison, Ellis Moseley, Emma Neale, Mary O'Brien, Oliver Owens, Joana Partyka, Veniana Maraia Paulina, Pete Pilven, Christopher Plumridge, Porcelain Bear, Hedley Potts, Robert Gordon Interiors, Rona Rubuntja, Yhonnie Scarce, Cher Shackleton, Avital Sheffer, Cheryl Smith, Leonard Smith, Yasmin Smith, Vipoo Srivilasa, Dee Taylor-Graham, Thancoupie (Gloria Fletcher), Danielle Thiris, Madeleine Thornton-Smith, Rex Tranites, Kate Tucker, Janet Kovesi Watt, Gerry Wedd, Lindsey Wherrett, Alana Wilson, Michelle Yeatman, Philomena Yeatman and Masiswagger Zingrur.
Cover: Porcelain Bear, Polar, detail, console in gold, 2021, handmade porcelain slipcast tile units, metallic gold glaze, cone 10, h.90cm, w.210cm, d.40cm Photo: Haydn Cattach
Published 1 April 2022
Editor: Vicki Grima
Editorial Assistants: Bridie Moran & Montessa Maack
Graphic Design: Astrid Wehling
---
STATUS:
Stock available
Requires shipping
Weight: 450gm