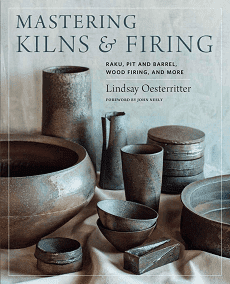 Mastering Kilns and Firing by Lindsay Oesterritter
Fall in love with flames, wood, and the effect that unique firing methods have on pottery. Move beyond the electric kiln and explore the dramatic surfaces of raku, the flashes of salt firing, and the rustic look of ash rivulets.
In this book, Lindsay Oesterritter provides a crash course in the most accessible methods of alternative firing.
Publisher: Quarry Books, 2019
ISBN: 9780760364888
192 pages
208 x 256mm
Hardcover
---
STATUS:
Stock available
Requires shipping
Weight: 820gm