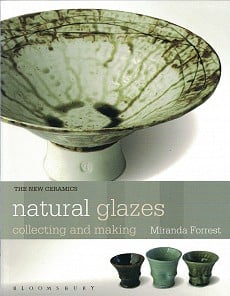 Natural Glazes by Miranda Forrest
Making your own glazes is a fascinating and rewarding process, even more so when making them from collected ingredients.
With little equipment and following a few basic principles, it is possible to harvest glaze ingredients from your local environment, such as clay, subsoil, plants and seashells, to achieve beautiful results in the kiln.
Whether you wish to make an entire glaze using collected materials, or just want to use them as additions to existing base recipes, Miranda Forrest explains how to source and prepare natural ingredients, from degraded rocks to seaweed, as well as giving step-by-step instructions for mixing a glaze, testing samples, and finally applying glazes and firing your work.
Contributions from contemporary ceramicists who use natural glaze ingredients give a detailed insight into their working methods and intriguing results. Encouraging experimentation and a creative approach, Natural Glazes is a vital resource for anyone wishing to work in a more natural, sustainable way to develop their unique glaze effects.
Publisher: Bloomsbury, 2013
ISBN: 9781408156667
112 pages
Paperback
246 x 189mm
Illustrations: 140 colour
---
STATUS:
Stock available
Requires shipping
Weight: 500gm