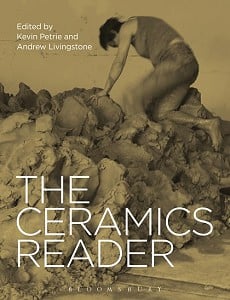 The Ceramics Reader edited by Andrew Livingstone and Kevin Petrie
The Ceramics Reader is an impressive collection of essays and text extracts which covers all the key areas of ceramics – both past and present. It focuses on thoughts and discussions within ceramics from the last 20-30 years in particular, but also gives the reader a broad overview of the last 100 years.
One aim of the book is to introduce contemporary debates, raise awareness and stimulate thought rather than to present a closed case for examination. Consequently the essays or extracts present different approaches to give a rounded viewpoint. Beginning with essential questions such as 'Why are ceramics important?' it also considers the field of ceramics from a range of perspectives – as a cultural activity, ceramics as metaphor, where it sits within arts and crafts, within gender discussions, ceramics as sculpture, the use of ceramics as a vehicle for propaganda, ceramics within industry, within museums, and most recently as part of the 'expanded field' as a Fine Art medium and vehicle for ideas.


Publisher: Bloomsbury, 2017
ISBN: 9781472584434
616 pages
Paperback
246 x 189mm
Illustrations: 40 bw
---
STATUS:
Stock available
Requires shipping
Weight: 1210gm