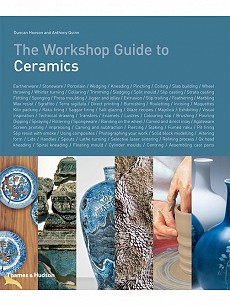 The Workshop Guide to Ceramics by Duncan Hooson and Anthony Quinn
The practical processes of running a workshop are discussed alongside the more complex techniques of making unique work. An extensive guide covers forming techniques, from pinch, coil, slab and wheel to mould-making, slip casting and extrusion, while detailed sections explore slip decoration, embossing and glazing, glaze recipes and applications.
Examples of how to set up a studio, good workshop practices, tool usage and recycling of materials act as a foundation to creating a strong environment to carry out your work. The book also includes a comprehensive guide to firing and kilns.
Publisher: Thames & Hudson Ltd, 2012
ISBN: 9780500516218
320 pages
Hardback
226 x 265mm
---
STATUS:
Stock available
Requires shipping
Weight: 1436gm