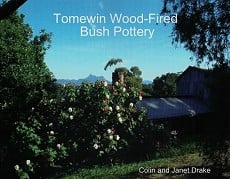 Tomewin Wood-Fired Bush Pottery by Colin and Janet Drake
This self-published book covers the ceramics journey of Colin and Janet Drake. It maps their journey from the early years of their marriage and their mutual passion for creating with clay.
The chapters cover topics such as building and planning their workshop, kiln building, weed and wood firing, making production ware for restaurants, clay and glazes, and a list of tips. This book shares their personal stories about what it is to live a truly authentic and creative life.
Pblished by Colin and Janet Drake
52 pages
Paperback
Colour and B&W photography
230 x 178mm
---
STATUS:
Stock available
Requires shipping
Weight: 115gm